This page is about the warehouse. You may be looking for the episode of the same name.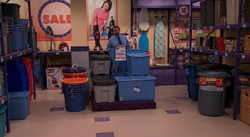 Wanko's Warehouse is a location featured in the episode of the same name.
Tori, Jade, Cat, André, Beck, Trina, and Robbie pull an all-nighter hiding inside the warehouse waiting for the start of their big sale the next morning. Unfortunately, they end up getting trapped there due to the warehouse's security laser lights. Meanwhile, Barney and Billy Triplet try to rob the store.
Wanko's Warehouse seems to be similar to many big box warehouses (ie. Sam's Club, BJ's, Costco). They sell many products from phones to storage bins, walkie talkies to vacuums. It may also sell food in bulk like the previously mentioned warehouse stores.
Wanko's Warehouse is parody of IKEA.
Interestingly, unlike conventional warehouse stores, you don't need a membership to enter, you just pay a fee to get in.
Wanko's Warehouse had an 80% off everything sale during the episode of the same name. It's unknown if this was a one time event or if it's annual.
Gallery
"Sing the next line!"
This article is a stub. You can help the Victorious Wiki by expanding it.
Community content is available under
CC-BY-SA
unless otherwise noted.