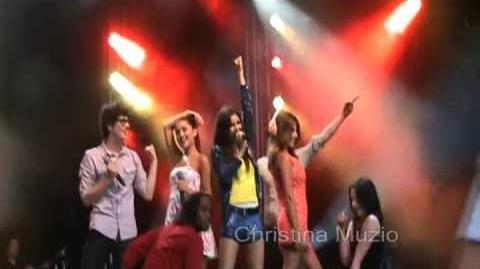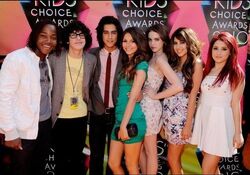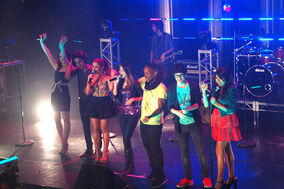 This is the friendship pairing of the whole Victorious cast. This includes Victoria Justice, Ariana Grande, Matt Bennett, Elizabeth Gillies, Avan Jogia, Daniella Monet, and Leon Thomas III . They hang out with each other a lot and most of the time goof around together. They are all very close friends.
Moments
They like to hang out together and make music.
Victoria Justice mentioned in her interview that the whole cast is friendly, and it doesn't even feel like working.
It's says in many interviews by the cast is that they are very close and always hug.
They like to hang out a lot behind the scenes of Victorious.
The cast wants to go on tour together.
All the cast appeared in a lot of music videos together.
A lot of the times, the cast says that the best thing about working on Victorious is the people that they work with.
Avan has said in an interview that he's never been a part of any production that felt so much like family.
In October 2011, the entire cast took a trip to London, England.
They did an interview on Thanksgiving to show how thankful they are to each other.
Most of the main cast became a judge panelist for Figure It Out. (along with Mikey Reid and Eric Lange)
Ariana tweeted they had a nice weekend in Orlando.
When the Victorious cast heard that there will not be a 4th season, they all tweeted something about it.
They won the KCA for Favorite TV show in 2012 and 2013 and hugged onstage.
The cast reunited on December 12, 2015.[1]
Ariana Grande tweeted that Victorious needed a real finale and the rest of the cast agreed. [1]
Liz Gilles stated in 2017 that there still close.
Gallery
Click here to see the photo gallery for Victorious Cast in Real Life.
References