Trina's Acting Workshop are categories of videos on TheSlap uploaded by Trina Vega.
Trina's Acting Workshop
In the first video,
Trina
introduces her video by saying that she is an actor, and she is going to give some 'wannabe actors' an instructional video on how to act out emotions.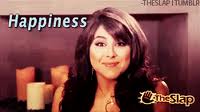 She acts out the following emotions:
Happiness
Sadness
Confusion
Worried
Shocked
Embarrassed
Frightened
Paranoid
Hunger
Trina's Scottish Movie
Trina starts off angry because she had auditioned for a role in a student's film the day before. The movie is about a Scottish couple. She also has two large pimples on her chin.
She says she spent three weeks preparing for the role of Gretchen (the woman in the couple) and trying to learn a Scottish accent. However, she did not get the part.
The rest of the video is her acting out the male and female parts of a scene from the movie, in which the Scottish couple are eating haggis and confessing their love for one another.
Community content is available under
CC-BY-SA
unless otherwise noted.