Doctor Strange in The Multiverse o Madness - The Loop
Play Sound
"I'm sad, because I didn't marry a prince and I don't live in a magic sugar castle! "
— Tori in Ice Cream for Ke$ha
Victoria "Tori" Vega is the main protagonist of the hit Nickelodeon show, Victorious. She experiences the biggest change of her life during the Big Showcase when she transfers from Sherwood High School to Hollywood Arts. This enables her to learn more about her craft (acting, singing, and dancing) and make new friends and frenemies. Though she is still sometimes out of her element, she is quickly learning how things work at Hollywood Arts and really doesn't know what's coming next at the anything but ordinary school. She is one of the four main characters to appear in every episode.
She is portrayed by Victoria Justice.
Biography
Season One
In Pilot, Tori is shown helping her classmate on a science project. She then gets the chance of a lifetime to attend Hollywood Arts after taking her older sister Trina Vega's place in her school's big showcase. André Harris helps Tori to receive a standing ovation from the crowd, and accepts the offer. On her first day of school, she meets Cat Valentine, Robbie Shapiro, Rex Powers, Beck Oliver and her new frenemy, Jade West. After accidentally spilling coffee on Beck, Tori finds herself at the wrath of Jade, who thinks Tori was flirting with Beck. After an altercation with Jade, Tori wonders if she is good enough to attend or even belong at Hollywood Arts. At the insistence of Trina, Tori returns to class and then gets revenge on Jade by winning against her in an improv assignment and by kissing Beck in front of her and ends with saying "I like this school".
In The Bird Scene, Tori wants to try out for the lead role in a play called "Moonlight Magic". However, according to Erwin Sikowitz, she must master a monologue known as "The Bird Scene" before she can be involved in any school production. She also needs to think of a creative and meaningful way to decorate her locker, which is a Hollywood Arts tradition. Sikowitz fails her twice but she then insists that she worked her hardest on the monologue, causing her to pass. He tells her that the moral of the scene is to believe in her own choices as an artist and decorates her locker with the song "Make It Shine", the same song that got her into the school.
In Stage Fighting, Jade and Tori act in a fight scene, but things go bad when Jade acts as if Tori hit her in the eye with a cane. When she explains that she did not hit Jade, no one believes her. Later it is revealed by André that Jade was faking it, with makeup that made her eye look like it was bleeding and made it look like she had a black eye as the aftermath. The two finally agree to play nice and trick the security guard into thinking they would finish Tori's punishment for cleaning up after a food fight scene.
In The Birthweek Song, Trina's "birthweek" arrives and Tori can't decide what to get her as a gift. After André suggests a song, they write "You're The Reason" and they perform it at Trina's party. Despite a successful performance, Trina, however, does not think it is a very good present since Tori did not spend money on it. Trina then brings the song to a record company but the producers find out that she isn't the real singer and unsurprisingly, she is bad at it as well. She then records the song with André, causing the producers to like her more than Trina, and learn that R&B artist Beyonce liked the song, leaving the three behind.
In Jade Dumps Beck, after Jade ends her relationship with Beck, she seeks Tori's help in getting him back.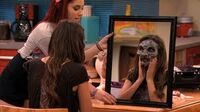 In Tori the Zombie, Cat uses Tori as her assignment for a makeup class, which is to make someone look horrific. Everything turns out wrong when she makes a zombie mask with cement glue and it gets stuck to Tori's face. It causes problems when Tori tells her that she is the lead role of a play and is supposed to look beautiful. She sends Trina and Cat on a drive to get the cure from the salutation. Because of them, she is forced to perform with the makeup on. Though the two arrive very late, the play's original writer, Sofia Michelle, praises Tori's performance, even complimenting the zombie mask as a way of showing that true beauty is within.
In Robarazzi, after Tori helps Robbie improve his blog on "TheSlap" and help make it become more popular, he begins filming the personal lives of his friends for his blog called "Robarazzi." When he starts going overboard, Tori masterminds a plan to give Robbie a taste of his own medicine.
In Survival of the Hottest, a heat wave hits L.A., so Tori and the gang decide to go to Venice Beach to cool off. However, the gang (minus Cat who left to use the restroom) become trapped in Beck's RV when another RV is parked right next to theirs. Cat, however, gets too distracted when she is having fun with a group of boys. After the RV leaves, the gang finally escapes and arrive to the beach.
In Wi-Fi in the Sky, Tori and Trina's flight home gets delayed, so a stressed-out Tori uses web conferencing to work on a group project for school with André, Cat, and Beck while she is on the plane. While attempting to get it done, the rest of the group keeps getting distracted by many other things around them.
In Beck's Big Break, Beck has a small role in a movie, and invites his friends to an open casting call for extras. Tori accidentally gets Beck fired, but is quick to get him his spot back, being praised as a hero for getting rid of Melinda Murray.
In The Great Ping Pong Scam, Tori becomes suspicious when her friends start avoiding her. Tori soon discovers that the five formed an illicit ping-pong team, using the funds to dine at Maestro's. After being allowed to join and not give them away, she dines at the restaurant with the gang. Tori is shocked that their check is $1,300 because of Robbie ordering too much caviar as it is a very expensive ingredient. Learning that the restaurant has been lacking performers, she saves them all from being arrested with a performance with André.
In Cat's New Boyfriend, Cat begins dating Tori's ex-boyfriend, Daniel, with Jade egging on Tori's jealousy in an attempt to break up Cat and Tori's friendship. When Tori realizes what jealousy is doing to her, however, she manages to patch things up with Cat.
In Freak the Freak Out, Tori loses her date with Mark McCallan and is stuck taking care of Trina who got her wisdom teeth pulled after her parents decide to leave town on the same weekend to avoid Trina's aftermath. Unfortunately, Trina ends up being a pain and makes things difficult for Tori while her friends are all visiting a new karaoke establishment called Karaoke Dokie. While they are hanging out, Jade and Cat are challenged by two girls Hayley Ferguson and Tara Ganz to a sing-off. Hayely and Tara sing "Number One" by Ginger Fox but the HA gang is surprised to hear how bad they sing. Cat and Jade counter with "Give It Up" and show the crowd that they are the better singers. Despite Cat and Jade singing very well, the competition is rigged and Hayley and Tara win because of Hayley's dad being the owner. After getting cheated out of the win, they go to Tori for help and they come up with a plan to upstage Hayley and Tara. Cat and Jade place a bet on the two: if Hayley and Tara win, she can make out with Beck but if they lose, they have to take care of Trina. Tori goes in disguise as "Louise Nordoff" in order to trick the two into continuing their win streak. Cat and Jade, knowing that is Tori, tell the girls to not pick her but they insisted. During the performance, she removes the disguise and reveals that she isn't Louise, but Tori Vega herself. Everyone at the club including Hayley and Tara is surprised except for Cat and Jade, who already knew it was her and that Jade devised the plan. She wins the singing contest, Jade's revenge plan is successful and that her and Cat's ban is lifted. In the end, Hayley and Tara had to deal with the torture of taking care of Trina as part of a bet they made with Cat and Jade. Back at Karaokie Dokie, they watch Sikowitz's own performance of "Number One" by Ginger Fox and celebrate with him.
In Rex Dies, Rex is badly damaged when Tori tries to "create a tornado" for a play. So Tori, Beck, Jade, and Cat take Rex to the hospital and everyone agrees to "kill Rex" for Robbie's sake only for Tori to go back on this when she realizes how much Robbie needs Rex.
In The Diddly-Bops, Tori and her friends are booked to perform at a little kid's birthday party as a favor for Sikowitz's friend. However, they find out that their performance was recorded and ended up becoming popular. Her friends are embarrassed and also, Andre's hopes of his music career were crushed. She then cheers up André by providing backup vocals for his new song and helps change the record producer's mind.
In Wok Star, Jade writes her own play called "Well Wishes" but the school won't let her perform it at school. So Tori helps Jade produce it themselves with the help of Mrs. Lee, the owner of Tori's favorite Chinese restaurant Wok Star, who volunteers to pay to produce Jade's play. But things get complicated when Mrs. Lee makes drastic changes to the script and wants to put her daughter, Daisy Lee, in the play, even though Daisy is a terrible actor and singer. Using her love for celebrities to her advantage, Tori uses her sister and Andre to stall her in the restaurant in order for Jade's play to go as planned. In the end, the play is successful but Mrs. Lee is upset that she missed it. She holds a grudge against Tori and Jade because they both left her daughter dangling in the ceiling. In this episode, Tori and Jade's relationship starts to take a positive turn.

In The Wood, Tori, André, Beck and Jade are excited to hear that they will be the stars of a new reality show called "The Wood" being filmed at Hollywood Arts. After the producers decide to edit together two separate phone calls making it look like Tori and Beck like each other, they find out that the producers want fake drama. Though the quartet initially join in faking the drama, Tori and Jade go too far when they accidentally trash Festus's car, ending the show's tenure at Hollywood Arts. As a result, Tori and Jade wheelbarrow Festus home while singing "Forever Baby" in Spanish.
In A Film by Dale Squires, Tori and the gang are excited to find out that they get to work on a film being directed by Dale Squires. But after he takes all the credit for the film, they plot revenge. They learn about his TV appearance and go to the Mac Murphy Show, and André's cousin Kendra is supposed to act and ruin his image. But right before that, he gives everyone credit.
In Sleepover at Sikowitz's, Sikowitz invites Tori and the group over to his house in order to teach them a lesson in method acting. Whoever breaks character is "banished" from Sikowitz's home. Tori is assigned as a lady cop who wears too much red lipstick and is obsessed with Raisin Bran, which is chosen by André. After the contest lasts into the morning, Tori is the last one left in character, emerging victorious.
Season Two
In Beggin' on Your Knees, Tori falls for a handsome classmate (Ryder Daniels) who asks her to sing a duet with him, only to find out his little secret (he dates girls only to get a good grade), and decides to get revenge on him at the Full Moon Jam. She sings a song called Beggin' on Your Knees and he ends up embarrassed.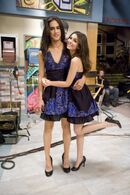 In Beck Falls for Tori, Sikowitz gets Tori an audition for a movie. Although she does not get the part, she is instead cast as a stunt double after lying on her resume and also because she looks too much like the lead actor. Tori must now perform a stunt involving jumping 40 feet off a platform, or risk getting blackballed in Hollywood. She is too frightened to do it and she keeps stalling, so Beck dresses up as Tori to pretend that he is her and does the fall instead. At the end, Tori decides she does want to do the fall to prove she is not a wimp, but she is scared again, so Jade pushes her off making her fall down.
In Ice Cream for Ke$ha, when Tori is stuck being Trina's assistant after losing a bet they made when they were little kids, she and her friends try to win a private concert from Ke$ha by finding all the letters to Ke$ha under ice cream cartons as a way to free Tori from Trina. They have all the letters except from the $ in Ke$ha so they get it from a little boy but he says that Tori, Cat and Jade must kiss him. They end up winning the contest and Ke$ha performs at the Vega house. Tori and the girls then get revenge on the boy by locking him outside.
In Tori Gets Stuck, Tori is awarded the lead role in "Steamboat Suzy" causing Jade, Tori's understudy, to throw a temper tantrum and make several attempts to prevent Tori from showing up for the play. When Robbie is rushed to the hospital and needs a blood transfusion, Tori is found to be a compatible donor with Jade stealing the blood as part of her petty sabotage. Forced to give more blood, Tori is too delirious to complete the play with Sikowitz, after kicking Jade out completing the play. After the blood donation, Tori performs despite her dizziness.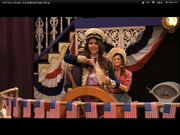 In Prom Wrecker, Tori decides to throw a prom (or "Prome") at Hollywood Arts. Jade is furious to find out that Tori booked the prome on the same night that she had wanted to premier her play, Clowns Don't Bounce. When Jade attempts to sabotage the prome, Tori turns her tricks back on her, getting Jade carried away and leading the crowd in a song. Despite the rain and thunder, she celebrates in the end, marking a successful "prome".

In Locked Up!, Tori and the gang are offered a week-long trip to Festus's home country of Yerba to perform for the chancellor. Their trip is not at all as they expected, with prisoners breaking into their hotel, nasty living conditions, and André being bitten by a vampire moth, but the gang is forced to stay and put on a show for the chancellor. However, due to a "shoe malfunction" (Tori's shoe slips off and hits the chancellor in the eye, which, according to Robbie, was his last working eye because the other is covered with an eye patch), Tori is sentenced to four years in jail for assault. The rest of the gang follows suit when trying to bail Tori out (Robbie accidentally murders the chancellor's octopus). They have a rough time in prison until Sikowitz disguises himself as an Yerbanian prison guard, and while watching Cat teach her prison gang how to dance, Tori devises a plan with another woman to sneak out of prison. They perform a cover of Jackson 5's I Want You Back and hatch their escape plan.
In Helen Back Again, Principal Eikner resigns as principal of Hollywood Arts. Helen Dubois is hired as the new principal and decides to have every student re-audition in order for them to stay in the school. She performs her song Make It Shine, the same song she sang that got her in Hollywood Arts in the beginning. Despite a stellar audition with André, Tori is rejected only for it to be discovered that Helen got the names wrong and Trina was the one who was kicked out, leaving Tori to try and find out how to keep her sister at the school.
In Who Did It to Trina?, Tori directs a play and is forced to cast Trina as the lead. On opening night, Trina's harness breaks and she falls, and the set crashes down on her. Questions then arise about whether the mishap was truly an accident or intentional. Lane finds out that the harness had been cut and calls Jade, André, Tori, Cat, Robbie and Rex into his office to find out what really happened. In the end, they put the case to a close, explaining that the equipment they used is old and they still like Trina despite being annoying to the group.
In Tori Tortures Teacher, Tori and the gang celebrate Sikowitz's 10th anniversary by taking him to a play. However, things go awry when Sikowitz becomes depressed after watching the play, leading Tori to feel guilty and try to fix it.
In Jade Gets Crushed, Tori helps André after he develops a crush on Jade. Also, Robbie tries to help Tori prepare for the Tech Theatre exam she must take and pass in order to take an R&B singing class. After the tutoring session, Tori learns that she got a perfect score on the exam, beating out Robbie's previous score. Next, Tori then dresses up like Jade to show Andre how scary she is and why it's difficult to date her. Realizing how he really felt, she also collaborates with André during his performance. In the end, André overcomes his conflicted feelings and keeps his friendship with Beck and Jade intact.
In Terror on Cupcake Street, Sikowitz convinces Tori and the gang to build a float for a parade that his new girlfriend is planning. After finishing the float, the group is stranded in a dangerous part of town when the float gets a flat tire on the way to the parade. Tori then seeks the help of a local group to fix the tire and to her surprise, they agree to fix it. The tire is fixed and the gang is able to go to the parade along with the group.
In A Christmas Tori, Tori struggles to find the perfect gift for André after finding out she is his Secret Santa. Learning of his grade in his songwriting class, she alongside Cat and Jade perform the song he wrote and helped changed his teacher's mind. Thanks to this, Andre gets an A in his class.
In Blooptorious, interviews, bloopers, and outtakes are featured of all the cast ever since the series began.
Season Three
In The Breakfast Bunch, Tori and the gang must spend Saturday in detention after Robbie causes all of them to be late for class.

In The Gorilla Club, Tori rehearses her audition for a movie, where Sikowitz and Cat are unimpressed by her performance. After she is told she needs to take risks, the gang suggests The Gorilla Club, a dangerous underground club with life-threatening activities which include taking on an actual wild gorilla. She succeeds with the activities but is not granted the role because of her injuries from the gorilla.
In The Worst Couple, after Sinjin paired up Tori and Robbie during his game show, Robbie thinks that they are a real couple. Concurrently Tori's phone begins to malfunction and she attempts to tough it out until the new model comes out.
In André's Horrible Girl, André tells Tori that she is only dating Hope Quincy because her father is a music producer. Telling him that what he's doing is wrong, Tori accompanies André to Hope's birthday to ensure that André breaks up with her. During Hope's birthday party, an earthquake hits Los Angeles. A sign falls on Hope's head, causing her to get hospitalized. In the end her dad then lets André and Tori continue their performance.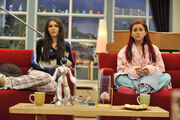 In Car, Rain & Fire, Cat hears her favorite actress passed away and wants to honor her, taking Tori and Jade go on a road trip to San Diego. While on their road trip, Tori, Cat and Jade experience many mishaps and things do not go the way they planned.
In Tori & Jade's Play Date, Tori and Jade are casted as a married couple, a task that challenges their acting skills and lack of friendship. However, Sikowitz is disappointed with their chemistry and sends them on a date at Nozu. He tells them that they will fail if they ended their date early. At first the date is not successful and their friendship is still sour as usual. However, they meet two boys that won't leave them alone. Annoyed, they sing "Take A Hint" to try to get rid of them. The performance is successful and their chemistry improves. But at the play, they come back to watch Tori and Jade's performance.
In April Fools' Blank, April Fool's Day comes to Hollywood Arts. Tori spends her day expecting creative pranks and practical jokes but is completely oblivious to a series of absurd events happening around her.
In Driving Tori Crazy, a movie shoot down the street from Tori's house forces her and Trina to take the long way to school, but after shaving Trina's legs and her armpit, she doesn't want to drive for 40 minutes to school with her anymore. She decides to get rides with her friends. Unfortunately, when riding with Beck, a bunch of other girls ride with them, and Tori gets in a fight with them. With André, his grandma causes trouble, with Robbie, he rides his bike, which is very slow, and with Jade, she tries to drive Tori into "Shadow Creek Woods", but Tori jumps out of the car before they enter. After, she walks 11 miles to school and was chased by a beaver. The final ride is provided by Cat, who gets Tori a ride to school on a party bus for only $20. However, she is displeased to see that Cat invited everyone else to the party bus. The gang then enjoys the ride to school singing Five Fingaz to the Face.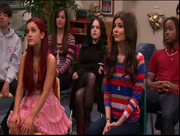 In How Trina Got In, Robbie takes Tori to Nozu for lunch but doesn't bring any money, and the two being unable to call for help thanks to Robbie's refusal to buy a cell phone plan. Unable to flee, Tori and Robbie are forced to chop 17 pounds of squid to pay off their bill. When they try to leave, Robbie accidentally breaks a pile of dishes, so he has to stay and massage Kwakoo's feet.
In Tori Goes Platinum, Tori wins a contest to sing the opening number at the Platinum Music Awards! But, there's just one catch: the show's producer, Mason Thornesmith, and his team want to reinvent her look and personality to be rude and outrageous to attract attention, and Tori is not allowed to tell anyone about this, not even her friends and family. She starts the crazy behavior, causing her friends to think she changed due to fame. Eventually, Beck finds out Tori's secret by himself because he knows that Tori wouldn't act that way on purpose. Beck and Tori almost kiss before being interrupted by Mrs. Vega. Tori ends up telling Mason and the producers that she can't take it anymore, which results in Mason not letting her appear in the Platinum Music Awards anymore and giving the role to Jade since he also liked her audition. After Cat accidentally leaves a video chat on, Jade sees Beck try to kiss Tori, only for Tori to pull away, saying that she couldn't kiss a friend's ex-boyfriend. Realizing that she was defending her, they finally become friends and Jade then lets Tori perform, while she goes into the audience. As Tori performs "Make It In America", Mason is initially annoyed, but he eventually says he likes it. The episode impacted Tori's relationships with Beck and Jade, making it one of the biggest Borade episodes.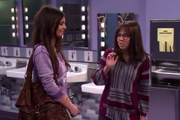 In Crazy Ponnie, Tori is befriended by Ponnie, a new student, when meeting her eating inside a bathroom stall. After Tori treats her nicely, Ponnie accepts her as a friend when she touches Tori's belly button. However, Ponnie keeps on disappearing around everyone else, making Tori's friends think that Tori is losing her mind. She turns out to be crazy. She runs away at lunchtime, stays away from class, gives Tori a doll that looks like her, and impersonates a Chinese food delivery lady. Also, Ponnie dumps noodles on Tori's head. Tori talks to her mom about the problem, and they plan on getting the cops. When Tori tries to get a can of juice, Ponnie grabs her, and then tells the truth that her real name is Fawn Leibowitz. Before Tori went to Hollywood Arts, Ponnie was there, and she claims that they kicked her out because they wanted to make room for Tori. Once the cops came, Sikowitz recognizes her and says that she got kicked out because she was crazy. She stole stuff, kept weird stuff in her backpack, and called people Debbie. She was arrested but escaped, and disguised as a cop drives Tori and Trina home.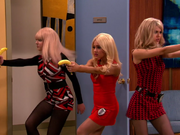 In The Blonde Squad, Tori, Jade, and Cat decide to go to Nozu after a day of filming Beck's new movie called "The Blonde Squad," but don't take off their blonde wigs and their blue contacts because Tori wants to know what it's like to be blonde. At Nozu, Cat meets a cute boy named Evan Smith on her way to the bathroom. After talking to him for 5 hours, she forgets to tell him that she actually has red hair and brown eyes. Tori and Robbie tell her that she is beautiful, and when Cat talks to Robbie about Evan, Robbie gets jealous. On the night of the premiere of Beck's movie, Jade and Tori expect Cat to be herself, but Cat walks in to meet Evan wearing her blonde wig and blue contacts. During the movie, André's grandmother's pet bird lands on Cat's wig, and begins to shift it out of place. Beck pauses the movie as Cat runs out of the theater, followed by Tori and Robbie. Tori forces Cat to show her true self to Evan and they end up breaking up.
Season Four
In Wanko's Warehouse, Trina tells Tori about the big sale at Wanko's. Soon after, Tori asks Trina if she can tell her friends but Trina is hesitant. After Trina tells them, they all decide to go to Wanko's and wait in line for the big sale. However, when they get there, Tori finds out that the sale starts in the morning and is quickly blamed for the incident.
In The Hambone King after Robbie loses a hambone match against Tori's former hambone partner Jarold Ardbeg, Tori then seeks revenge by challenging him to a rematch to be crowned as Hambone Queen.
In Opposite Date, to do away with the lingering tension between them, Tori and Beck go on an "opposite date" and do the opposite of everything that is usually done in a normal date, proving to each other, despite Jade's paranoia, that they can be friends no matter what.
In Three Girls and a Moose Tori competes against Jade and Cat to be liked by Moose, Beck's friend from Canada. Their affections for him cause them to miss out on helping Beck, Andre and Robbie with their show Tinkle-Aid. In retaliation, the three scratch Tori, Cat and Jade from the show. When realizing how awful they've been acting however and Moose finally rejecting her, Cat and Jade, Tori and Cat sing LA Boyz as an apology to the guys. This episode causes conflict between Tori, Cat and Jade, impacting the Catorade ship.
In Cell Block, Sikowitz challenges Tori and her friends to not use their phones. This turns into a battle between the girls and boys to see who can't use their phones the longest. In the end, the boys win the battle.
In Tori Fixes Beck and Jade, Tori and André try to find a date for Jade so that Beck can go out on a date with Meredith. One problem; every guy is afraid of her. Beck admits to Tori that he likes a girl who is willing to fight back, implying that he still has feelings for Jade. Inspired, he patches things up with Jade after her performance.
In One Thousand Berry Balls, Tori gets a job through André at the yogurt shop, Yotally Togurt, because she needs to make some money. Now she and André need to give out 1,000 Berry Balls, but her strange outfit makes it difficult. Because of the Cow Wow, she leaves for her performance with André and the performance becomes successful.
In Robbie Sells Rex, Tori first gets Mason Thornesmith to speak at the school before helping Robbie get Rex back after trading him for Francis Thornesmith's puppet.
In The Bad Roommate, Tori gets tired of André overstaying his welcome in her house while also thinking of a song to write and perform live for Kojeezy. They make amends but end up failing the baby test.
In Brain Squeezers, Tori is chosen as a team captain for a new TV show Brain Squeezers. Unfortunately, all of her friends start competing against each other, hoping she'll pick them for her team. When on the show, Jade steals Tori's place, leaving Tori as the other team captain, being the only one who was smart enough to avoid the doinks.
In The Slap Fight, the gang gets terribly distracted from working on a short film after discovering that Trina has more followers on TheSlap than everyone else, leaving Tori to frantically do damage control. She finally ends the following spree with her classmates and finishes their short film. However, because of their distraction with getting more followers, the film is not received well.
In Star Spangled Tori, Tori is asked to sing the national anthem on public television. However, after the mascot's dog drags her across the gym floor she must deal with her new reputation. Tori is then noticed by popular talk show host Chris Burm and invites her to be on his show. She begins the process of redeeming herself with Beck and André's help. On the show, Tori begins to perform her song Bad Boys. Realizing that she was going to be embarrassed yet again, Beck and Andre place a squib next to Chris's chair and he inadvertently blows himself up.
In Victori-Yes Tori and her friends are challenged by Sikowitz to say yes to everything someone asks them except anything romantic or "illegal". Tori and the gang accept but soon find it difficult to keep their word. During the challenge, she says yes to Jade when she gives her money to pay for a pizza even if she was planning to make one. Their final decision is when they join Trina in her new TV show.
Appearance
Eye Color: Brown
Hair Color: Brunette
Skin Color: Tan (half Latina, half Irish)
Trademark: Cheekbones
Tori can be described as a moderately tall, very slim, beautiful girl with dark brown hair and brown eyes. Her most prominent features are her cheekbones which have been remarked upon by many (Mrs. Lee, Ryder Daniels, Rex Powers, Kenan Thompson, Freddie Benson, and Ke$ha) to the point of "Cheekbones" becoming a nickname of hers.
In the pilot, Tori's hair is different than it is the rest of the series. Instead of being curly and equally parted, it is straight and parted to one side. Tori is usually seen wearing t-shirts with a pair of jeans and boots (of various styles, usually of the high-heeled variety). Her fashion sense is known to vary, suggesting she may be a downplayed fashionista or have a hidden gift for design. One fashion choice that she is confirmed to dislike is wearing skirts over jeans. She was also able to style Beck's hair into a variety of hairstyles in Tori Takes Requests #8. She seems to enjoy wearing skinny jeans contrasted with looser tops but has infrequently inverted this or worn exclusively form hugging clothing. Of all the girls in her group, she enjoys displaying her midriff suggesting a comfortableness with her sexuality and an acknowledgment of how attractive she is. Some TheSlap posts even implied that she was considered the hottest girl at Hollywood Arts.
Personality
Tori is pleasant, positive, kind, easy-going, funny, sweet, intelligent, serious, forgiving, more mature and responsible than her older sister, yet can be shown to be neurotic and impatient and sometimes stresses out at times, though such emotions are usually well warranted. Nevertheless, she is always there when her friends need her, such as in "Rex Dies" when she pretends that Rex came back to life to make Robbie happy and in "Jade Dumps Beck", where she helps Jade and Beck get back together. Although sometimes it seems like they don't care (especially Jade), they really do love her and usually return the favor, such as when Beck did her stunt for her in Beck Falls for Tori and when they all help her to win a private concert from Ke$ha so she won't have to be Trina's assistant in Ice Cream for Ke$ha.
In the beginning of the series, she was insecure of herself, as shown in Pilot when she was good enough to get into Hollywood Arts on scholarship and yet still unsure of her acting ability in "The Bird Scene", as indicated by her having to take the test three times. However, as time progresses she is shown to become more confident in her abilities though still retaining her sense of humility. Tori is shown to have an evil side, however, though most people who bring this out are usually fully deserving of whatever misfortune Tori will unleash on them. Throughout the series, she is shown being hostile to Trina on multiple occasions, though such acts are hardly unwarranted. Many of Tori's more hostile moments suggest that she is capable of being as callous as Jade, if not more so, but fears who she could become if she indulges those aspects.
Tori is characterized by her charm and is liked by everyone. Her charisma and sensitivity is undermined, however, by her quick thinking and giving into peer pressure. As as result, this can lead to Tori getting into trouble easily, and this is seen primarily in the first season. Such an example comes in the episode, Beck's Big Break, where Tori gets Beck fired from the movie production he was originally working with. In the end, Tori makes up for her mistake and Beck gets his role back. Her date with Ryder Daniels is an example of how easily she is given into peer pressure. After Trina eavesdropped on the conversation between Tori and Ryder, Tori eventually opted to find herself snooping through Ryder's phone, and she was eventually caught by Ryder. In the end, she finds out that Ryder was only dating Tori for the good grades. Some of her attitudes, suggest that Tori wants others to like and admire her as a flawless being who can solve everything.
Tori's soft heart also plays a major role in her reactions to the environment around her. While others are less forgiving, Tori has a sweet spot for people in trouble and her quick thinking emphasizes her caring and genuineness. An example of this comes in the episode, "Survival of the Hottest", where she spots Sinjin face down in a kiddie pool. Her quick reactions help Sinjin to stay alive, rotating his body in a face up motion.
In contrast to her older sister, Tori is a much more mature person and tends to enjoy things in a neutral state of mind. This is stressed in the episode, "Wi-Fi in the Sky", demonstrating the contrasting levels of maturity between the siblings. While Tori is portrayed as level-headed, Trina is portrayed to be vicious and is shown to dislike being continuously annoyed, to the point of almost lashing out at the young boy behind her. This is later challenged and affirmed in the episode, Cat's New Boyfriend; challenged, due to her temporary behavior after glossing over Daniel and Cat kissing, but affirmed when Tori and Daniel both state that jealousy is not a normal feeling she associates with. Even in "Victori-Yes", Tori outright said that she was not jealous of Trina being on, what Tori thought of at the time as, "high-quality television."
Several episodes imply that Tori is much smarter than she lets on as she is known to be able to quickly solve problems (The Great Ping Pong Scam, The Diddly-Bops, and Locked Up!), organize whole productions in days' time (Wok Star and Prom Wrecker), speaks multiple languages (The Wood, Locked Up!, and Tori Tortures Teacher), is able to learn and master dance routines merely by observational learning (Pilot and The Gorilla Club), and is suggested to simply be the intellectually smartest member of the group (possibly how she got through Brain Squeezers unharmed). Indeed the one time Tori was not put in charge of the gang's scheme, their plan ended up backfiring horribly (A Film by Dale Squires).
In addition to the above, some moments also imply that Tori, like her sister, is a good deal stronger than she looks. A good example exists in "Freak the Freak Out" where Tori was able to able to restrain the exceptionally strong Trina alone while André, Beck, and Robbie, and later Hayley and Tara, could not. Additionally, Jade's plan in Stage Fighting would not have worked had Tori not believed herself strong enough of giving someone a black eye in a single blow. She also appears very durable, being able to survive and quickly heal from Cat punching her in Cat's New Boyfriend, the injuries she sustained at The Gorilla Club, her phone, hooked up to car battery, electrocuting her (The Worst Couple), and being dragged across a field by a dog (Star Spangled Tori).
Despite, or perhaps because of, being a relative newcomer at Hollywood Arts, Tori seems the most dedicated to the performing arts frequently throwing herself into situations and opportunities that the other five react with, at best, polite indifference towards (The Wood, Beck Falls for Tori and Tori Goes Platinum) while also trying to improve her craft, contrasting the others' stagnation (The Gorilla Club). Discounting her initially losing the Platinum Music Awards, she appears to be the most determined of the lot, getting André a second chance in "The Diddly-Bops" after he was ready to abandon his dream, attempting very hard to cheer up Sikowitz when she thought she was the cause of his depression, and managing to survive the rough neighborhood in Terror on Cupcake Street alone. Likewise, in The Slap Fight, she was the only one who recognized how petty everyone's behavior was and that they were neglecting an important project to gain more followers.
Relationships with Other Characters
"You might be crazy, but have I told you lately that I love you!"
— Tori singing to Trina.
(1993-present: Sister)
Trina Vega is Tori's older sister. Trina is the reason that Tori got into Hollywood Arts, because Trina took some kind of Chinese Herb Gargle she found online, thinking it would make her sing better, but instead, it gave her an allergic reaction, therefore having Tori fill in for her place at the showcase. Tori and Trina have an interesting relationship that has its ups and downs. They care for each other, but they don't like to express it. If they do, they quickly cover it up. For example, Trina encouraged Tori to go to Hollywood Arts and said she did "great" at the big showcase (even though she added "But I would have done amazing.") They do get into typical sibling fights but have never got into a major disagreement. Therefore, Tori and Trina care about each other but can get into little fights very easily. Though they bicker, the two are shown to always have each other's back, with Trina demanding that the Yerbanian Chancellor give Tori back and Tori making it so that Trina could stay at Hollywood Arts in Helen Back Again. (See: Torina)
(2010–present: Best Friend)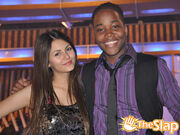 André is Tori's male best friend and one of her shoulders to lean on. Tori and André became instant friends after he and Trina were partnered up for the talent show and he begins spending a lot of time at her house, helping Trina. André is one of the main reasons that Tori went to and stayed at Hollywood Arts in the first place. He volunteered her to take Trina's place in the Big Showcase in the Pilot when Trina had an allergic reaction. When Tori wanted to give up after Jade poured coffee on her in Improv class, André was the first to point out that she was special and belonged at the school. He has written many of the songs she has sung since "Make It Shine". They only ever had one argument in "The Bad Roommate", but it was resolved by the end of the episode. (See: Tandré)
"Why does she hate me?"
— Tori about Jade.
(2010–present: Frenemy)
Jade and Tori are "frenemies", and their conflict is similar to a Type B (protagonist) vs Type A (antagonist). Tori and Jade did not get off on the right foot when they first met. While many of their interactions would suggest that Jade views herself as rivals with Tori, it seems that Tori does not return these feelings. Their relationship constantly shifts between friend and enemy, never appearing to stay in one position from one episode to the next.
The first time they met, Jade instantly hated Tori because she thought Tori was flirting with her boyfriend, Beck, when really Tori had spilled coffee on him and was only trying to dry it off. As "revenge", Jade poured iced coffee all over Tori and humiliated her in front of their entire Improv class. On her second day at Hollywood Arts, Tori fought fire with fire and humiliated Jade by besting her in an alphabetical improv assignment and kissing Beck in front of the class. In Stage Fighting, Jade makes everyone believe Tori hit her on purpose. Although Tori found out Jade was faking, she didn't report her. Since then, they've become relatively friendly. Jade enlists in Tori's help her get back with Beck, even though her efforts fail. Despite viewing Tori as a rival, Jade does acknowledge Tori's singing talent as at least equal to her own, seeking her help in Freak the Freak Out to beat Hayley and Tara in a karaoke competition when she and Cat, despite being better, lost, as the club was owned by one of the girl's fathers, who decided the victor, and were then banned from singing again at the club. She can also be seen dancing and cheering during some of Tori's performances, such as in One Thousand Berry Balls when Tori performs Here's 2 Us with André. When Jade is not allowed to put on her play at school in Wok Star, Tori helps her find a place to produce her play. Also, in that episode, for the first time, Jade and Tori share a hug. In The Wood, Tori and Jade mistakenly smash Festus's car when they were supposed to smash a junk car.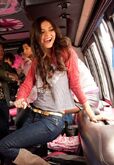 Some episodes, such as Tori Gets Stuck and Prom Wrecker have found them at odds with each other. In the former, Jade was sabotaging Tori for the purpose of stealing her role. (An unusual act for her, as she didn't do so for the bigger name play in Tori the Zombie, even though Tori was playing the role Jade wanted.) In the latter, Jade was angry with Tori for causing her performance to be cancelled for the prome. Despite this, in Who Did It to Trina? it is shown that Tori values Jade's opinion. In Tori & Jade's Play Date they weren't thrilled about being cast as husband and wife in a play, but were able to overcome their differences and even work together to get revenge on two annoying boys by singing "Take A Hint," their first duet. Based on that cooperation, they finally become good friends in Tori Goes Platinum, when Jade sees Tori refuse to kiss Beck because she considers Jade to be her friend and she believes kissing a friend's ex-boyfriend is wrong. Because of this, Jade gives Tori her spot in the Platinum Music Awards back and cheers her on in the audience. Despite this, they would still clash a lot but kept shifting back to friend as quickly as they shifted to enemies. (See: Jori)
" The world needs to see who you truly are. Cause you're amazing."
— Beck to Tori in Tori Goes Platinum.
(2010–present: Good Friend)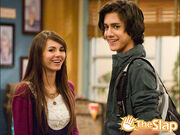 Beck and Tori are good friends. They kissed in the Pilot episode during an improv scene in class. Despite the initial kiss, Tori appears to respect Jade and Beck's relationship as a couple as she helps them get back together in Jade Dumps Beck. The ease with which Beck and Tori get along appears to be a source of Jade's antagonism towards Tori.
In Beck's Big Break she is extremely upset when she accidentally got Beck fired from a movie called Miss Fire. Tori went to great lengths to get Beck his job back. In Beck Falls for Tori, Beck helps Tori do a stunt that she was very scared of doing. In the episode Driving Tori Crazy, Beck drives Tori to school when she does not have another way to get there. In The Gorilla Club, Beck helps Tori with her audition for three nights and is by her side at every dangerous challenge. Likewise, he was the only one who didn't abandon her during the events of Tori Goes Platinum.
In Tori Goes Platinum, Beck comforts Tori and sees through her "act" when she is forced to act crazily per her manager's instruction. The two almost kiss twice, but Tori ultimately doesn't, saying she doesn't feel right about kissing him because she considers Jade to be her friend. In Opposite Date, Beck and Tori try to hang out as friends. In Tori Fixes Beck and Jade, Tori helps Beck date again, which results in him getting back together with Jade. (See: Bori)
"I love cats!"
— Tori to Cat in Pilot.
(2010–present: Best Friend)
Cat is one of Tori's closest friends. Although Tori is sometimes annoyed with Cat's childish demeanor, they maintain their friendship. In the episode Cat's New Boyfriend, Tori becomes jealous that Cat is dating her ex-boyfriend and kisses him, causing Cat to cry and leave. Tori immediately feels terrible, and keeps trying to contact Cat to apologize, but Cat ignores her. Tori finally forces Cat to talk to her in school, and Tori then gets to apologize. After the two talk for a while, Cat forgives Tori, and their friendship returns to normal. Tori says she loves Cat and refers to her as the 'sweetest thing ever' in the same episode. Following this single argument, their friendship only got stronger to the point of becoming best friends, with several of Cat's TheSlap posts confirming that she views Tori as her best friend, something which may also influence Jade's negative treatment of Tori (as Jade considers Cat her best friend). In Car, Rain & Fire, Tori and Cat work together on their science project, and Tori agrees to go with Cat to commemorate the "death" of her favorite actress. Tori seems to view Cat as something of a surrogate little sister, a sentiment which Cat is very eager about, often sleeping over at Tori's house so the two can film their series, The Funny Nugget Show. (See: Cori)
(2010–present: Close Friend)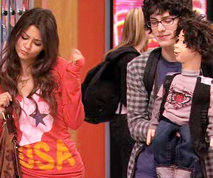 Tori met Robbie (and his puppet Rex) when asking for directions on her first day. She was at first weirded out by Robbie, but quickly came to regard him as a close friend. In Robarazzi, Tori (for the first time) got angry at Robbie for a very long time for making up the Robarazzi blog and humiliating other students with their private business, including her. In Rex Dies, she accidentally sucks his puppet into a machine she was operating "killing" Rex. In the hospital she stays with Robbie as they watch Rex "die." She then feels sorry for him and turns the heart monitor back on, reviving Rex. In Tori Gets Stuck, Tori donates three pints of her blood to give to Robbie and they are comfortable joking around together. Also, in The Hambone King, Tori coaches Robbie in hamboning so that he can beat Jarold Ardbeg, eventually standing up for him when Jarold again defeats him. It was shown on many episodes that Robbie has a crush on Tori, though it appears to be only skin deep, and she does not appear to return his feelings but likewise refuses to take advantage of them to have him do things her way, with the two maintaining a healthy friendship. (See: Rori)
(2010–present: Friend, Teacher)
Tori initially met Sikowitz outside the Hollywood Arts campus on her first day and gave him $2 because she thought he was homeless. On her first few days, he didn't show her any special treatment because she was new to improv which didn't seem to bother her at all. Since then, she has developed a friendship with him just like the rest of the group has. Although he is a bit odd and eccentric, they accept his weirdness and trust him. In Tori Tortures Teacher, Tori and her friends take Sikowitz to a play to celebrate his ten year teaching anniversary, and she is very concerned about him when she thinks that the play made him depressed. Tori and the gang also showed how much they like Sikowitz in Freak the Freak Out when they cheered wildly during his performance at Karaoke Dokie. Perhaps as a result of her being the newest addition to the group however, Tori seems the least tolerant of Sikowitz's antics and is usually the first to call out his insanity. Conversely, the fact that she seems so determined to succeed at Hollywood Arts makes her his favorite as he often gives her the most challenging roles to help her branch out and was so very proud of her when she won the Platinum Music Awards. (See: Torkowitz)
(2010–present; Friend)
Although Tori often gets annoyed and freaked out by Sinjin's awkward actions, she still considers him a friend. The Great Ping Pong Scam suggests that Sinjin may have a crush on Tori, having fantasized about making out with her. (See: Torjin)
Songs
Solos
Duets
Solos in an Group Number
Season 1

Episode:

Song:

Sing Also With:

Favorite Food (Unreleased)
Unreleased Songs
Sang Backup
Solos
Duets
Solos in an Group Number
Season 2

Episode:

Song:

Sing Also With:
Solos
Duets
Solos in a Group Number
Season 3

Episode:

Song:

Sing Also With:
Season 3

Episode:

Song:

Backup by

Image
Special Blue PearPhone XT
Special Blue PearPad 2
Special Blue PearBook 4
Trivia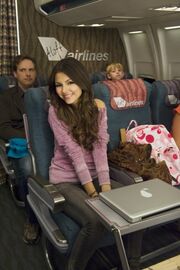 Tori, Cat, André, and Jade are the only characters that sang on the show.
She can shoot a bow and arrow with her feet, as seen in "The Breakfast Bunch".
Her locker has the words "Make it Shine" on it, the name of the song she sang in the Pilot episode, and lights up.
Her last name, Vega, is the name of the brightest star in the Lyra constellation.
"Tori" means "bird" in Japanese. Ironically, she had an audition called "The Bird Scene" which took her three tries.
She is half-Latina from her father's side and half-Irish from her mother's side, an inversion of Victoria Justice's parentage.
Along with André, Robbie and Jade, Tori appears in every episode. While the roles of the other three would vary in importance, she was always essential to the plot/subplot.
One of the apps on Tori's phone, TwitFlash, is a Twitter parody.
She loves "iCarly.com" and even has a sticker on her fridge with the name of the web show. She also expressed her love of the show during the crossover. Fittingly, she was the only one the gang to properly interact with the iCarly trio.
It's said in the Pilot that Tori has never had any cavities.
Her screen name is ToriVega.
Tori is the only main character whose first name can be lengthened into the same as that of their actor, though it is never explicitly confirmed that her first name is "Victoria."

However, due to a TheSlap.com post where she says that her parents would have named her Victor if she was a boy, as well as the working title being "Victoria" and some dubs keeping the title as "Victoria", (e.g. "Brilhante Victória" in Portuguese), it can be reasonably assumed that her full name is Victoria.

Tori has sung Make It Shine four times ("Pilot", "Survival of the Hottest", "Helen Back Again" with André and "The Breakfast Bunch")
Aside from her solo performances, Tori has sung duets with André, Cat and Jade.
Tori is very ticklish under her armpits and on her feet. In "April Fools' Blank" Jade tickles Tori to cheer her up and on TheSlap.com Tori posts about getting a pedicure, which tickled so much she "kicked the woman in the ear by accident".
She has kissed both Jade's and Cat's boyfriends (Beck in the Pilot; Daniel in "Cat's New Boyfriend"). She has also kissed Carly Shay's boyfriend, Steven Carson, but unlike the first two times she kissed another girls' significant other, she and Steven were a couple and she was unaware that he was involved with someone else at the time.
Tori has been hit five times in the series, by Trina in "Jade Dumps Beck", "Freak the Freak Out," and "Wanko's Warehouse", by Cat in "Cat's New Boyfriend", and by Sinjin in Wanko's Warehouse.
As seen in The Wood, Tori knows how to sing Forever Baby in Spanish. Also in Tori Tortures Teacher, she understands what Sikowitz says.
Tori has stickers of Katy Perry, Saving Abel, Jessie J, and a young Dan Schneider in her locker which shows she might be a fan of them.
An interesting note is that before Victoria Justice was cast, the gender of "Alex Mitchell" was a bit ambiguous; even boys auditioned for the role.
One of Tori's costumes is owned by Carly Shay from iCarly.
In "Sleepover at Sikowitz's", she played a cop named "Officer Pedesco" who loved Raisin Bran cereal and in the end was the only who didn't break character. This is interesting, as Tori's father is a cop.
Tori has twice pretended to be someone else, Louise Nordoff in "Freak the Freak Out" and Crystal Waters in "Beck's Big Break". Both times, she was able to save her friends trapped in different situations: Jade and Cat for being cheated off in their singing contest and getting Beck's job back.
Another note is that Tori can also impersonate other people: Jade West in "Jade Gets Crushed" and Andre's grandmother in "The Bad Roommate".

Coincidentally, both times she impersonated them, she was helping André overcome his situations.
She impersonated Jade to help André get over her and impersonated his grandmother to help him understand how it's like living with her.

She has a fear of doing stunts, as revealed in "Beck Falls for Tori".
In "Tori Gets Stuck" it was revealed she's allergic to Bush Daisies.

It's also revealed that she has an O- blood type, like Robbie.

Tori reveals in the crossover that she used to watch All That (a former show on Nickelodeon, and Dan Schneider's first show for the channel).
There's a recurring gag on the show about her cheekbones, from people complimenting or commenting on them (Mrs. Lee, Ryder, Rex and Freddie) to asking her if they're real (Ke$ha). Tori's cheekbones are squeezed by Kenan Thompson during iParty with Victorious.
Tori is very skilled at ping pong, as seen in The Great Ping Pong Scam.
Tori wears glasses, but this wasn't revealed until she posted a video on TheSlap that showed her wearing glasses. She wore glasses in almost every scene at home in "Helen Back Again". Cat mentions in "Three Girls and a Moose" that Tori almost always wears her glasses when she is at home alone though it is unclear whether the glasses are corrective (and even then, they may just be for reading), a focusing tool or she wears them as props for her Slap videos.

It can be implied that she wears contacts.

Tori was initially terrible at playing musical instruments, such as the French horn ("Stage Fighting") and the piccolo ("Beck's Big Break"), but mastered the piano by the time of "Tori Goes Platinum".
Tori was the owner of a fish named Goldie from June 24, 2009 to July 22, 2011. She also used to have a hamster named Kevin, as established in "Terror on Cupcake Street".
Tori has owned a black ("Pilot" and possibly in "iParty with Victorious"), pink (Season 1), and blue (Season 2) Pear Phone.
While Tori was in Yerbanian prison, she presumably learned how to speak some limited Yerbanian because she spoke in a foreign language to one of the prisoners. ("Locked Up!")
She had two boyfriends in the series, the first being Ryder Daniels in "Beggin' on Your Knees" and Steven Carson on "iParty with Victorious".

An interesting note is that all of her boyfriends (Daniel, Ryder and Steven) have all been the main antagonists in their episodes, though Daniel himself didn't appear to have malicious intentions towards Tori and shared the antagonist role with Jade.

She's an Honor Student ("Terror on Cupcake Street").
Despite being a year younger than Trina, Tori is the taller of the two despite Trina's frequent wearing of heels.
Tori is considered to not take enough risks in The Gorilla Club, though the other five in the main group don't seem to take many, if any, risks when it comes to performing.
Tori doesn't have a driver's license "like a normal teenage girl" as seen in "Driving Tori Crazy" and later in "Brain Squeezers". However, her parents tried to bribe her with a car in "Locked Up!".
Tori wears a pink watch in "Tori & Jade's Play Date", and a red watch in "How Trina Got In", both on her right arm, even though, like Victoria Justice, she is right handed.

There are people who wear their watches on their dominant hand, so it is possible Tori is one of those people.

Out of all the characters, she has the most fans on TheSlap, with over a million fans, possibly due to her performance at the Platinum Music Awards. This is somewhat ironic considering that she cared the least about getting more followers in The Slap Fight.
Jade's number is blocked on her phone (as mentioned in "Robarazzi").
She has kissed every boy in the show, with the exception of André.
Tori has shown her stomach more times than any other girl in the show, such as in shorts and a tied tank top ("Survival of the Hottest"), white jeans and a black/gold tank top ("Freak the Freak Out"), briefly in black jeans and a red sequin tank top (Locked Up!), skinny jeans and a purple rose t-shirt ("The Breakfast Bunch"), low-rise sweatpants and a pink lace-up top ("The Gorilla Club"), a magenta tank top and matching lace top ("The Worst Couple"), and a pink sequin crop top with floral jeans ("Tori Fixes Beck and Jade").
Tori hates being swayed by Trina in "Freak the Freak Out".
As stated in "iParty with Victorious", Tori bears an uncanny resemblance to Shelby Marx (a character Victoria Justice portrayed on iCarly before Victorious first aired), though Freddie noted Tori was "waaay hotter" than Shelby.

The iCarly episode "iStart a Fanwar" featured Stacey Dillsen, a character from Zoey 101, which means that Tori has another doppelgänger in the form of Lola Martinez.

Tori is the only main character to never have a flashback episode (the rest of the gang appeared in one in "The Great Ping Pong Scam" and Trina had one in "How Trina Got In") leading her to be the character whose past is the least known. Her first scene (and frequent signs of higher intelligence) implies that she may have been interested in the sciences before coming to Hollywood Arts.
As the protagonist, Tori made a big impact throughout the show. Had Tori not attended Trina's showcase and not gotten into Hollywood Arts, Beck and Jade would have broken up forever in "Jade Dumps Beck", the gang would have been arrested in the "The Great Ping Pong Scam", the gang would have been banned from Karaoke Dokie in "Freak the Freak Out", André's musical career would have ended in "The Diddly-Bops", Jade's play in "Wok Star" would never have been produced, Ryder Daniels would never have been exposed, and Robbie would likely have died due to the events of "Tori Gets Stuck".
In "The Breakfast Bunch", Tori bemoans that she has never had detention before. However, in "Stage Fighting" she received 2 weeks of detention for "hitting" Jade. Either she got out of that punishment or the former episode is considered non-canon.
As seen in several episodes, Tori gets along better with her parents than Trina does.
"Cat's New Boyfriend" establishes that Tori doesn't like wearing skirts over jeans, something Victoria Justice's character, Lola Martinez, infrequently did in Season 2 of Zoey 101. Likewise, in a TheSlap post, Tori was annoyed by Trina practicing her scream for three days and cheered when she (Trina) lost her voice, events that happened to Lola in the Zoey 101 episode "Quarantine."
Tori's backstory seems to hybridize elements of Lola and Zoey's from Zoey 101. She is the newest, most talented, and viewed by the school at large as the most attractive member of the group, and played by Victoria Justice (Lola) while also being a perpetually happy girl that everyone goes to for advice and help (Zoey).
Tori is the only known student at Hollywood Arts to have been invited to attend rather than having auditioned for her spot, although her performance at the showcase could have been considered by the school to be an unofficial audition, making an official one unnecessary.
Gallery
Click here to see the photo gallery for Tori Vega.
References