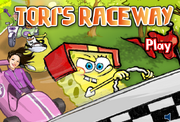 Tori's Raceway is a game on TheSlap.
In the game, the player can choose from one of five characters, each from different Nickelodeon TV shows. The characters are Tori, Carly, SpongeBob Squarepants, Fanboy and Chum Chum, and Skipper. Each character has a different level of speed, weight, acceleration, and handling.
The player can then choose to either play a Quick Race or a Camp Cup. In the Quick Race, the player chooses his or her own racetrack. In Camp Cup, there are different consecutive races. The four race tracks are New York Summer, Camp Orange, High Tide Beach, and Desert Dash.
This game is played with the arrow keys and space bar. The arrow keys are used to move left and right, and the space bar is used to throw items which the character picks up along the way. These items can do a number of different things such as slow down another character, speed up the player's character, or clear a portion of the track of obstacles. There are various obstacles on the track such as oil slicks, puddles, and mud patches. There are, however, dash panels, which are red and white arrows, that can speed the character up.
Click here to play!
"Sing the next line!"
This article is a stub. You can help the Victorious Wiki by expanding it.
Community content is available under
CC-BY-SA
unless otherwise noted.