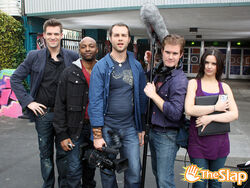 The Wood is a reality TV show in the Victorious universe. It is featured in the episode with the same name. It is a "reality" TV show that focuses on the lives of teens at Hollywood Arts High School. The students auditioned to be in it, and they chose Tori, Beck, Jade, and André. It is revealed that it's fake after they took Tori and Beck's phone calls and edited them up to make it seem like they were dating. The phone call was really two separate phone calls where Beck was ordering pizza and Tori was talking to her Aunt and her Aunt's puppy. The show bears a resemblance to Improv, of which the kids go along with. Tori and Jade decided to make up their own segment by supposedly crashing the janitor's car. It turns out it was Festus car, so Lane kicks the producers out with a golf club, supplied by Sinjin Van Cleef.
Trivia
It is said on TheSlap.com that the girl who asked if Beck had a girlriend and got fired for this.
It is possible that the girl who tried to flirt with Beck told the directors to cut the scenes together to ruin Beck and Jade's relationship.
The Wood is a reference to the real life MTV reality show, The Hills. Although the The Hills was meant to be a reality show, there was speculations that it was fake and/or scripted.
"Sing the next line!"
This article is a stub. You can help the Victorious Wiki by expanding it.
Community content is available under
CC-BY-SA
unless otherwise noted.