The Grub Truck is the food cart at Hollywood Arts. It's where the students get their lunch. Its usual worker is Festus, who often yells orders to himself. When Trina and Robbie injured Festus in The Wood, they had to work there as a punishment. It has a sign that says: Eating at this Asphalt Café is a privilege. The Grub Truck is built inside a Multi-stop truck, whose manufacturer was unknown, until Dan Schneider posted a YouTube video of the antics of Matt Bennett, thus inadvertently exposing the truck as a Chevrolet Step Van King. It can be assumed that the food served there is not the best quality, because Festus said on TheSlap that the chicken is really frog legs, there's a "Mystery Meat Monday" (which changed to "Mystery Meat Wednesday" in 2012) and going 14 days without a food poisoning incident is a new record.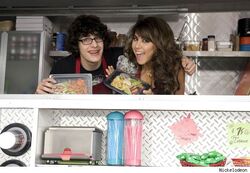 Food Sold
Burritos/Wraps
Hamburgers/Veggie Burgers
Sushi
Salads
Sandwiches
Soda
Milkshakes
Tamales
French Fries
Blix Drinks (reference to Zoey 101)
Pizza
Tostadas
Filet Mignon
Frozen Burritos
Spaghetti
Bagels (type of croissant taste)
Ravioli
Fish-eye jelly
Chicken (actually frog legs)
Joke-A-Cola
Jet Brew
Crystal Waters
Wahoo Punch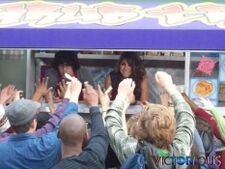 Community content is available under
CC-BY-SA
unless otherwise noted.