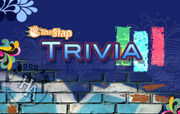 TheSlap Trivia is a game on TheSlap.com.
Hollywood Arts' quote time!- Who said what?
There are 10 questions. On each question, you get four answer choices and twenty-five seconds to answer the question. The quote appears on the left side. To choose what character said the quote, you select their picture, and then click the submit option. You can also change your answer if necessary. If you got it right it says "Yay, correct!" If you guessed wrong, it says, "Sorry, you guessed wrong."
"Sing the next line!"
This article is a stub. You can help the Victorious Wiki by expanding it.
Community content is available under
CC-BY-SA
unless otherwise noted.