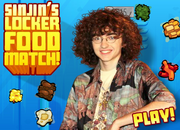 Sinjin's Locker Game
, also well-known as "
Sinjin's Locker Food Match
," is a game on
TheSlap
. In this game, the player must attempt to clean
Sinjin's
locker of chewed up food. To clear food, the player must click on a cluster of the same sort of food with three or more food clumps. More food will drop down to replace the ones that have disappeared. As the player progresses, more types of food will be added. There are six types in all, and the game starts with three. When the time runs out, the game is over. Clicking on clumps of food adds to the time, and clicking on clusters of food with more than three matches will give the player extra points.
Click here to play!
"Sing the next line!"
This article is a stub. You can help the Victorious Wiki by expanding it.
Community content is available under
CC-BY-SA
unless otherwise noted.