Cobra Kai Season 4 - The Loop
Play Sound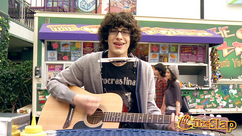 Robbie's Profile Video is Robbie's profile video on TheSlap. This is the first in the "Profile Videos" series.
Plot
Robbie is making his profile video (with Rex), however after Rex insults him a few times, Robbie makes him go sit off camera. Even though it is not shown, in the background you can hear them arguing and someone slaps someone, possibly Rex hits Robbie. When Robbie returns to continue the video, he introduces himself then goes on to demonstrate his talents. He first shows his acting skills with the segment of The Dad and the Baby who could Talk. He then shows off his dancing skills by dancing all around in the outside lunch area. Finally he shows his singing skills (while playing his guitar and harmonica) with a song that he wrote which he states "set the tone" for his future songs.
Hey Kids! Wanna hear a song from Robbie? Ok! Just listen.
You can play with a balloon, you can lick a rubber band
You can eat a tasty prune, you can slap your mother's friend
You wanna a pet frog? It's as easy as a log
Just take your hand:
And rub that frog's head, yeah
Find a frog you look upon
And rub its head
Girl, you gotta rub that frog's head, yeah
(In a high pitched voice) RUB THAT FROGGIE'S HEAD!
Rub that frog's head.