Public Service Announcement is a web-show featuring the main students at Hollywood Arts, including Tori, Beck, Jade, Cat, Robbie, André, and Trina. Beck posts them, although it's not clear whether he made the webshow. The show is similar to "The More You Know" commercials on NBC, with all of the students talking about something someone should be safe doing or a disease of some sort is going around. So far, there have only been five episodes. Sikowitz have yet to make an appearance in any of them. Some continuities throughout the episodes are Tori beginning the video by introducing herself, André mentioning his little sister (possibly fictional), mentioning talking to Congress about the video's subject, and Beck standing in front of the Wahoo Punch machine.
Episodes
1. You Need to Know This...
People are suffering all over the world from a "terrible affliction"- they SCREAM words STARTING with the letter S. Everyone SCREAMS things like:
"SASQUATCH is another name for Bigfoot."
"SALMON is a fish."
"It's a terrible disease SOME people can get."
"SOUP!!!!!!!"
"Have you ever been to a restaurant and been afraid to order SALAD?!"
2. BIG PROBLEM!!!
People all around the world are suffering from a "disturbing condition" - word dropping. Examples of word dropping are:
"You try make complete sentence but not every you say comes out the you it."
"Affects lots people of."
"I first realized I dropped only five old."
"Alone, we no village, together squeeze."
3. People Who Become Briefly Terrified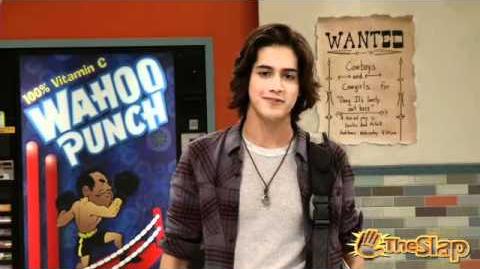 You or someone you know may suffer from becoming briefly terrified. AHHHHHHHH!!!!!!!!!! Sorry about that. We can make a difference. - (to see the gifs of all characters acting terrified, you can visit their character pages).
4.Texting While Eating
Don't text while eating and don't eat while texting, it is very dangerous.
People reflect on their bad experiences of texting while eating.
Trina does not appear in this video.
Jade lost a sandwich when she fell randomly down the stairs, Andre lost a bag of sour gummies when he walked into a door, and Robbie lost a doughnut when someone pushed his desk over in the hallway.
5.The Slap is Here to Help:
This segment is about people randomly wearing glasses. This is the segment to have Sinjin in it. Jade states that if people wear glasses to look cool, you can no longer tell the difference between a "book-worm or a fashion conscious wannabe."
Community content is available under
CC-BY-SA
unless otherwise noted.