The Sandman Will Keep You Awake - The Loop
Play Sound
Miranda Sings
General Information
Gender:
Female
Hair Color:
Brown
Eye Color:
Brown
Other Information
Interests:
Singing
Series Information
First appearance:
Tori Goes Platinum
Last appearance:
Tori Goes Platinum
Portrayed By:
Colleen Ballinger
Miranda Sings (portrayed by Colleen Ballinger) is the girl who sings Freak the Freak Out for her audition for the Platinum Music Awards in Tori Goes Platinum. Her audition is the tenth video, and Mason makes no comments after viewing it, and has a weird expression on his face.
Robbie posted about her saying "Okay, Miranda Sings is actually really awesome but she dresses like my great-aunt's living room furniture set."
The character was created by comedian Colleen Ballinger. The character has two YouTube accounts, and she is a YouTube sensation. One is called mirandasings08 and one is called Mirandavlogz. She is Ariana Grande's friend and was her vocal coach.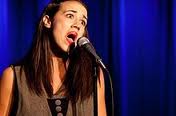 Lyrics
So what I'm gonna do now
Is freak the freak out!
Wo-oh-oah, wo-oh-oah, wo-oh-oah, wo-oh-oah.
"Sing the next line!"
This article is a stub. You can help the Victorious Wiki by expanding it.