Match Play



Appearance

Created By

Based On

Match Game
Match Play
is a game show parody or spoof of a mid-1970's game show,
Match Game
. Its only appearance on the show is in the episode
April Fools Blank
.
Rules
The host will give the contender a phrase.
If the word matches one of those of the panelists the player can win $5,000.00
For every panelist whose word does not match up to that of the player, the player will be attacked by The Dancing Lobster until the player falls over.
Tori was the player, Sikowitz was the host, and André, Jade, Robbie, Cat, Beck, and Trina were the panelists.
Sikowitz gave Tori the phrase "Dumb Debbie was so dumb she didn't realize April first was April Fools Blank"
Tori answered the obvious answer "Day", but because of the odd nature of the episode, the answers she got were:

André: "Lobster"
Jade "Berry"
Robbie: "Foot"
Cat: "Blank"
Beck: "Onion Rings"
Trina: "Cut to the Next Scene"

Trina's card brought them to the next scene and Tori lost her chance of winning the $5,000.
Every time Tori's answer failed to match the panelists she got attacked by the lobster with two exceptions:

Cat, as Sikowitz said for the lobster to not attack Tori.
Trina, as it cut to the next scene before the lobster could arrive.
Comparison to Match Game
Similarities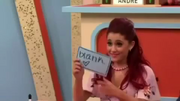 Six panelists
Player has to fill in the blank
Answer must match one of the panelists
70's themed
Dumb Debbie is similar to Dumb Dora from Match Game
Differences
Six celebrity panelists in original while in Match Play it was just Tori's friends.
In Match Play there was a Lobster that attacked the player.
Two contestants in Match Game while in Match Play there is only one
In Match Game each player had two chances to match as many of the six "celebrities" as possible while in Victorious it seems Tori only had to match one of the panelists.
Gallery
Community content is available under
CC-BY-SA
unless otherwise noted.