Mariana

Matt and Ariana

Shipped Cast:

Status:

Very Close Friends

Shows Together:
Mariana is the real life pairing of Matt Bennett and Ariana Grande (Ma/tt and A/riana or M/att and Ariana). They, like most of the Victorious cast, are very close in real life and hang out often on and off set.
Mariana has nothing to do with Cabbie, although some fans might think so.
Mariana Moments
In the 7 Secrets with Victoria Justice video, Matt has his hand on Ariana's back looking at something on her phone and then wraps both his arms around Ariana and she backs into him. Later, Matt is seen swinging Ariana around side to side, while she's still in his arms and she's laughing.
In the fun facts Dan posted for the episode Stage Fighting, Dan jokingly said that Matt was very happy all week because he got to kiss Daniella Monet and Ariana multiple times.
In Matt and Ariana's Pet Peeves Matt wanted to list Ariana's pet peeves and she let him, despite she already having a "good list."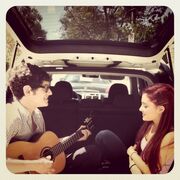 In this video, Ariana said that Matt is the funniest person she has ever met in her life. She says that Matt came over last night and fooled around with her on her looping machine and that it was good. Also, Leon says they are the "Karaoke King and Queen" and Avan says that he loves that all of his answers had been Matt and Ariana.
In one of Dan's videos (made while shooting Tori Gets Stuck) Ariana is poking Matt and hitting him with a blue worm toy while he has a blanket pulled over his head, giggling as she does so. She runs her finger over his mouth and he bites it through the blanket and refuses to let go, making her laugh. Later in the video Matt takes the blanket off of him and says that Ariana hit him in the eye with her worm toy, and she laughs and says, "I'm sorry," and goes to hug him.
In the Freak the Freak Out music video, Ariana and Matt do a silly dance together.
In the Beggin' On Your Knees music video, they are seen feeding each other with cotton candy. (Matt and Ariana are seen hanging together in every Victorious Cast music video)
In one of Ariana's Youtube videos (osnapitzari's a fun little video we made') she and Matt are goofing around by singing, dancing, and rapping. (Leon is included in this)
Matt Bennett: (about Ariana's singing) "She sang in her beautiful voice...they never said I couldn't sing."

On TwitPic, Ariana posts a picture of her with Matt (and Avan) and says "I love these boys :)."
Ariana did a segment for Popstar on "How To Dress Like Matt Bennett" and posted it on her Twitter.
On Twitter, Ariana posted "Photo of me & my friend, Matt at the Walmart signing the other day. So much fun @MattBennett! ♥ twitpic.com/66ugrc."
Matt tweeted a video of him and Ariana doing an interview with oceanup and added "Oh my god, it's Ariana Grande!"
In this video, Matt and Ariana kept looking at each other during the interview. Notice the fact that there's so much space on the left of Ariana and she's all up on Matt.
In this Video, Matt and Ariana give back to school advice and, while Matt is ranting, Ariana is staring at him and puts something on his lap.
Matt tweeted "That's right, I've narrowed my options down to three EP names: Mott, Warm Fuzzies, and Little Tiger." and Ari responded "@MattBennett congrats matty! I love your music. I know everyone else will too!"
In this video, Matt and Ariana and Daniella Monet perform 'I Want You Back' with Keenan Cahill and Ariana bumps into Matt and they stand next to each other. Matt could have gotten on Daniella's side during the I Want You Back part, but he chose Ariana's side.
In this video, Matt and Ariana are standing very close together while playing the guitar together.

Ariana said in an interview that she is thankful for Matt, and that he so funny, and he teaches her how to play guitar, and they hang out a lot, also in that same video Matt said he was thankful for Ariana's sense of humor.
In this video the cast was racing in go-karts, and after Ariana said that Matt was the first person to bump into her and Matt shyly denied it.
In this video Matt is doing an interview with Liz Gillies and Ariana comes into the room and Matt asks her if she wants to join the interview, and she says that it's okay. Ariana is behind the camera and watches for the rest of the interview, and laughs when Matt says one of his alter egos is The Milk Man.
In another interview Ariana does with Avan the interviewer asks him what bugs him and Ariana says she thought of something that bugs Matt Bennett, meaning that she was thinking about him.
Matt tweeted a picture that said, "Sorry, ladies, Gizmos taken..." and it's a picture of Ariana holding Gizmo while she's eating some cookies.

Matt tweeted a picture that said, "Gizmo, courtesy of @Arianagrande" and it's a picture of Matt's Gizmo toy on the room number of Ariana's dressing room.
Matt tweeted a picture that said, "Gizmo watches television". It's a picture of his Gizmo toy and a TV in the background playing the Pilot, and it's a still frame of Cat and Robbie.
Dan posted a picture of the cast on the cover of Daily Variety, and Matt and Ariana are sitting next to each other.
Someone tweeted a picture of Matt taking a picture of Ariana at the Halo Awards, and Matt retweeted it. You can view the picture here.
In this video uploaded by Matt, "Ariana Grande" is in the tags section even though it is irrelevant to the video.
In this video, Ariana did an interview and they asked her "What was the funniest moment from working with the iCarly and Victorious cast together?" and she replied "Matt Bennett trying to sing my one line at

the end like a girl over and over again." As she said this, she waved at him.
Matt says he loves "My Ari" in this video.
Matt and Ariana are holding hands in this video.

Ariana seemed jealous in this video when Dan tells Matt to grab Daniella. She comes and stands there and just keeps looking at them like, "What's happening?" until Dan distracts her.
Ariana tweeted, "Really fun writing session ever with @MattBennett & Michael Corcoran! we wrote some funny little songs for Victorious. ♥"
In this video Ariana and Matt are being pranked by Dan; telling them to pose for a picture but instead he films them. Their sitting in front of each other, and their heads are very close. They seem to be having a lot of fun because Ariana keeps laughing, and it looks like Ariana leans in to kiss Matt (there is even a romantic song playing in the background).
Matt tweeted this, "@ArianaGrande http://www.youtube.com/watch?v=aA-tOsM6F4Y I'll just leave this here..." The song he tweeted Ariana was about love.
In this video, you can hear Ariana scream and call "MATT, MATT, MATT!" at around 2:04.
In the video when Danwarp on YouTube asks the cast what kind of fish they have never eaten, Matt and Ariana are holding hands.
Dan tweeted a video saying a fight broke out on Victorious, and it

was just Matt and Ariana play fighting.
In a video Matt is pretending to the angry with Ariana and Liz because they didn't go to the beach, and at Ariana can be heard laughing throughout. Then at the end Ariana says, "Yell harder." which makes Matt laugh and tells her no.
In this video Ariana was filming and Matt did something funny to Leon and he kind of loses his balance at the end and you hear Ariana and Matt both laughing also in the description it says "Matty surprises Leon with a little treat" which means Ariana calls Matt "Matty".
In an ocean up interview, the cast was asked who would be the king and queen of karaoke and everyone said that Ariana and Matt are the king and queen. Also near the end of the video Ariana showed a video of her and Matt messing around on her looping machine, beacuse he just dropped by unannounced and she even admitted that he does this from time to time, which means its not the first time he's done that.
Liz Gillies tweeted that her Matt and Ariana created a youtube acount for fun crazy stuff its called WeAreStoopKid and the video's are mostly about angry Matt which Ariana and Liz film and you always hear Ariana cracking up in the background when Matt's pretending he's angry..
In this Video Matt is being angry with Liz and during the middle of the video Ariana comes and see's Matt and says "oh my god!" in a cute way and then you can hear her laughing in the room when Matt's voice gets higher.
In the brainsurge video Matt says alot of funny things in which Ariana laughs at all of them. Also Matt and Ariana are competing against Big Time Rush when Liz Gillies and Ciara leave it's Victorious (Matt and Ariana) vs Big Time Rush (Kendall and Carlos) Also in round 1 Matt and Ariana are next to each other.
In an interview Ariana did with Popstar Magazine about the Victorious video game, at around 1:15 Ariana said that her grandpa doesn't like Matt because she and him had to kiss in Stage Fighting, and that he thinks Matt is Robbie, so he thinks that there's something there.

In this video Matt is giving a tour, and Ariana walks up to him and says, "Where you going?" She puts her left arm around his waist, and then then Matt puts his arm around her and starts to say (about Ariana), "She is a very hilarious young woman, she has a bright future, as both, as actress and as a singer, and I'm very proud of her," which makes Ariana smile. They have a little eye contact, and then Matt says' "She's also short," so she left but they were just playing around. Ariana was also looking at him the whole time he was saying that, and she was also the only person Matt talked about in such detail.
In this video Ariana is acting crazy and staring at Matt so they have eye contact. It's just them two out of the whole cast hanging out.
In this article, the people who made it call Matt and Ariana a pair (iParty pair) and it says "Ariana Grande cozies up with costar Matt Bennett E.T.C."
In one of Dan's videos Matt was whispering something in Ariana ear, and she starts to laugh and wipes a tear from her eye because she's laughing so hard.
In this video Matt, Ariana, and Daniella crash the iCarly random debate and when Matt pops out Ariana says "Hey Matt, look it's Nathan, Jennette and Noah.' It was just the Matt and Ariana who crashed the debate until Daniella showed up. Also when Matt says "whats up," Ariana looks at him for a while, smiling.
In this video, Matt is acting weird but to seem funny then when he runs off screaming Ariana starts laughing and saying he's amazing.
In this video, around the middle, Matt says "OK, this is our song." and he starts to play the guitar and Ariana (and Victoria) start to dance and Ariana looks at Matt and smiles she also looks amazed that her and Matt have a song.
Matt Bennett tweeted "Putting my hearts up at the @ArianaGrande show. I popped tears of joy" which means he was going to Ariana show to support her then after the show Ariana tweeted "relaxing with my friends and family".

Matt Bennett tweeted a video with these exact words: "super cute video with me and Ariana Grande". In the video they are saying to be green and Matt is saying funny crazy things and Ariana touches his arm and pokes his chest and says 'noooo"! in a flirty cute way.
In this video, Matt and Ariana do another interview with the Big Help, and they are in the background in Leon and Daniella's scene. Also Matt says to Ariana, "Your house can have a garden," which means he has been to her house. Ariana says "Let's do that, let's make a garden," and Matt agrees indicating they are going to build a garden together.
In this video, Matt and Ariana do another Big Help interview, and you can see them flirting. Also when Ariana is answering a question Matt looks at her like he is in love with her. Matt says "They're not my kids but..." then you hear Ariana laughing and saying "Their daddy," then he looks at her. Also at 1:05 you can see Matt holding Ariana's arms.
In this video Matt is filming Ariana .
In this VideoMatt is filming Ariana (and Liz and Leon) and he and Ariana are laughing throughout the whole video while Liz and Leon crawl.
In this video Matt wants to go play outside, and Liz and Avan are saying no, and

Ariana is laughing at Matt. Towards the end Ariana starts laughing at Matt and says "Matt your mouth," and then Matt says "What my mouth."
In the video Cornwallis, Matt is having Ariana say the word 'Cornwallis' but she can't stop laughing. She tries to hold his hand, and at the end it seems like she falls into his lap or chest laughing.
On Matt's youtube account he favorited an interview of him and Ariana .
In this video Matt and Ariana do another interview about the Big Help and they stand very close together and stare at each other. Matt holds the microphone for Ariana when she speaks.
In an interview Matt and Ariana talk about each other's music, and they say that they are both very supportive of each other. Matt says that he's very proud of Ariana, and Ariana hugs him and says, "Thank you, Matty." Matt also calls Ariana his "little angel" and "blessing in disguise," and Ariana gets a very surprised expression and jokingly says, "Thanks, Dad." She also says that Matt's music is awesome, and Matt is rubbing her shoulder. The interviewer smiles very often, as if she notices something between them, and even states how cute they are being so supportive of each other.

He said she is the nugget to his chicken man.
In this video , Matt and Ariana are on a plane sitting next to each other any making funny faces, and they both put their faces close to the camera and they both do these crazy things with their faces and they have eye contact when they laugh.
In this video , Matt and Ariana are on the plane sitting together and Ariana is doing something with her eyebrows and Matt is next to her laughing.

Dan posted a picture on FaceBook which is of Matt and Ariana hugging each other while filming The Blonde Squad.
Ariana tweeted "lunch with my castmate <3" which means lunch with Matt e.t.c
Ariana tweeted this Video, Matt teaching her how to speak japanese and their heads are very close together. She tweeted these words "This happened 5 minutes ago.. @MattBennett attempting to teach me Japanese! Lol. #Failing We are stoop kid! :]
In this Video, Ariana is filming Matt and Liz, and in the back ground you hear Ariana cracking up at Matt.
Ariana tweeted, "@MattBennett Ch-ch-ch-chewing love. LOL. #choreography."

In this Video , Matt, Ariana and Daniella guest star in one of the iCarly video's and Matt and Ariana stand next to each other. Ariana seems to stare at Matt throughout the video and at the end Matt begins to play guitar and they have a duet (including Daniella). When Matt plays guitar he stands behind Ariana but they are very close together.
In this Video, for the Victorious Xbox Commercial you notice that Matt

and Ariana are the reason for the accident that happens in there dressing rooms, Ariana causes spilling watering the girls room and Matt causes his script papers to flying the boys room which means they are both a little clumsy at times.
In this Video, the Victorious cast is doing an interview and someone ask Matt to sing broken glass so he sings it and the whole time he and Ariana are looking at each other and Ariana (and the cast) are hitting their laps to make a beat for Matt. Ariana also sings with him and when Matt tells the audience "you aren't singing," she laughs. When Matt bows she continues to stare at him and smile.
In this Video, Matt tries to pull Avans pants down but when he fails to do so he goes to Ariana (who is filming) and says in a playful way "weakling." She also giggles then Matt says defenselessly "they were tied on".

Ariana's brother, Frankie did a Stream Chat Live, and Ariana got a text and said, "Aww Matt" and showed Liz, Frankie then showed the phone to the camera and it was a picture of Matt.
Ariana tweeted "Happy Anniversary" to her Victorious cast-mates which includes Matt.
In this Video, iCarly and the Victorious cast are at a St. Judes fundraiser and around 3:02 you can see in the background Ariana goes to were Matt is sitting (you cannot see Matt because he is sitting down) and she starts telling him something then he gets up and whispers something in her ear then she laughs and they have a little conversation and they get very close to each-other.
Matt and Ariana were wearing matching clothes in the KCA.[https://soundcloud.com/mott-bonnott/the-way-matt-bennett-guest

Ariana and Matt have done a short interview with E! about the KCAs and Victorious.
Matt did an interview and the interviewer asked him "Biggest flirt?" He replies, "Me, but I mean it when I flirt" which means he was honestly flirting with Ariana when he wrapped his arms around her in the "7 Secrets with Victoria Justice" also when they were holding hands in one of Dans video's.
Ariana was taking pictures of Matt when Daniella Monet was interviewing Cody Simpson and you see them in the background having a conversation.
In an interview by Daniella Monet, Matt says that he loves Ariana more than The Wonder Girls. Then she says "Thank you Matt" and smiles at him then she starts to blush and get all embarrassed and smacks his hand playfully while both of them are laughing. They have like a little sign language talk until Daniella interrupts them.
In this Video Ariana is doing an interview (with Liz and Leon) and at 2:35 the interviewer ask who from your cast would you slime and Ariana say "Matt Bennett" and she also says that "he would love it".

During the KCA's Ariana and Matt were standing next to each other while presenting an award with the Victorious cast also Ariana hands Matt the blimp then he passes it back to her.
When the Victorious cast won the award and they were on stage Matt goes to hug Ariana then after Victoria gives her little speech Ariana playfully taps Matts arms in excitement and joy then you can see Matt has his arm around her when the speech is over.
Ariana tweeted "On lunch posting new stoop kid videos with @LizGillies and @MattBennett <3 Enjoy! Xo".
In a Stoop Kid Video Ariana is trying to make Liz eat a blackberry and when she puts it on her mouth she says "This is the broccoli video" which had Liz trying to feed Matt broccoli.
In this Stoop Kids Video Ariana is filming her in Matt's car seat and Matt puts on her seat belt for her and says "safety first" meaning he doesn't want anything to happen to her. When Matt is leaving, Ariana says playfully "Thanks Dad." It looks like he is going around to the drivers seat so they could have been driving somewhere together.

In this Video, Matt and Ariana are walking down the street then Ariana films Matt making weird noises while walking and she starts cracking up. In the end Matt stops and looks at Ariana and it looks like he was gonna tell her something but she turned off the camera.
In Matt Bennett's youtube, he liked and commented on a video of him and Ariana's interview.
Ariana tweeted "Baking a cake with @mattbennett @jennettemccurdy @uptomyknees @LizGillies & @FrankieJGrande :D 🎂".
@uptomyknees tweeted " @arianagrande and @mattbennett in: the fine art of blanket dancing".
Matt tweeted "I think @Uptomyknees is basically the Fox from Pinocchio. In this scenario, @ArianaGrande, @LizGillies and I are PInocchio. [https://twitter.com/#!/search/%23scaryscenario
Ariana tweeted a picture of Matt (and Leon and Avan) and said "i love these boys"!
In this Video Matt is filming Ariana singing and she couldn't stop laughing at Matt behind the camera and when she is done singing it looks like she is going up to him.

Liz tweeted "@MattBennett just threw @ArianaGrande in a trash can."
In this video Ariana is filming Matt and Liz, and throughout the video Ariana is cracking up in the background while Matt is freaking out. After he knocks the chair over Ariana says, "You're losing your voice" while she giggles, and when Matt rips the drawing she goes "oh" in a shocked way.
In the video for Make It In America, Ariana and Matt dance together at different points throughout the video and they took a funny picture in the middle.
Matt got his hands on Ariana's twitter and had a little fun. He tweeted "You know who is the coolest person? @MattBennett" and "When I think of cool I think of @MattBennett" then Ariana tweeted "……….Never leaving my computer unattended again. LOL. <3 @MattBennett is pretty cool though!".
In this Video, at 4:38, while Ariana is doing an interview, Matt comes in to give Ariana a hug and says playing around "my celebrity crush right here" then she calls him "Romeo."

Matt tweeted the new Stoop Kid video "Slo-Mo Grande" which is a video of Ariana jumping out of a trailer in slo-mo over and over, and his tweet said, "New StoopKid, my favorite one yet..."
In this video, (at around 3:15) Popstar Magazine ask a bunch of people who would they punk and and Ariana said she would punk Matt because he is always pranking her and Liz.
Ariana tweeted a picture of Matt with this description "Matt has a camera strapped to his chest.. [https://twitter.com/#!/search/%23reallife
reallife
neverlaughedsohard
fellonthefloor
] ".
In this Ariana video, Matt makes Ariana laugh a lot; he films her doing crazy things, scaring her about 3 times and making her put on his glasses, and at the end of the video Matt puts the camera super close to her face to see the tears she has from him making her laugh so much. Ariana is also wearing Matt's jacket.
Ariana tweeted that she loves Matt (and the rest of the cast too).
In this Video, the Victorious cast is having a concert and performing 5 Fingaz in the Face and Ariana seems to go to Matt and dance with him. When she sings "5 fingaz in the face" she puts her hand to him, they dance together and laugh a lot in this video. They acted the same during same with the Make It Shine and I Want You Back.
When the Victorious cast perform Make It Shine by Victoria Justice, Matt & Ariana dance together.
Before Ariana and Victoria were about to perform 'LA Boys', Matt says that Ariana's lyrics were about him; Also, Victoria asked Matt what his song "I Think You're Swell" was inspired by and he replied saying he wrote the song for Ari.
In this video: Matt was asked what his favorite pet was and he asks "Does Ariana Grande count?"

Matt calls Ariana his cat.

In this Stoop Kid video "Angry Matt: Orlando" Matt is angry because wants to go on the rides, but he has to wait. Then at the end of the video Avan and Liz pick Matt up, and Ariana makes an excited noise and starts to say, "1, 2," Then Avan and Liz carry Matt away which makes Ariana say, "Oh I thought you were gonna throw him in the water. I got so excited."
Ariana tweeted this keek Video of her and Matt getting ready to film a scene. After the director leaves, Matt says "Nice night" sarcastically and Ariana laughs.
In Ariana's and Liz's live chat Ariana kept bringing up Matt. Ariana played the song "(I Think You're) Swell" and said that Matt wrote a song called Beverly which she thinks is cute. She also showed a video of Liz and her going into Matt's dressing room to see if they could do a new stoopkid video but Matt was sleeping and Ariana said it was really cute. They also tried to prank call him, but he didn't answer. When they prank-called Avan, Avan first guessed it was Ariana because she was laughing, then Matt, assuming that he was with Ariana.
Ariana tweeted this keek Video of her and Matt in the KCA's and Ariana is filming Matt going through the seats and saying everyone's name wrong and you hear Ariana laughing in the background.
Ariana tweeted two videos to her keek page of Matt doing funny things and you hear Ariana laughing in the background.
In the June 2012 video for Matt's youtube channel, Matt and Ariana goes to roller coaster together, and they are gripping their hands tightly together.
Ariana tweeted this Keek Video of her Matt and Ariana's mom going to a hotel for the Kid's Choice Awards and Ariana asks Matt to do something he did before again so she could get it on her phone. Throughout the video Ariana is laughing and looks like she is having a good time with Matt.
Ariana tweeted "As seen on stoop kid lol [http://www.keek.com/search/%231ofmyfavs
1ofmyfavs
]" and a video to go along with it and its of Matt teaching Ariana how to speak Japanese.
Ariana tweeted "Who's coming to @mattbennett's show tomorrow night? 94 ave A at 7 PM.. It's free and we might be singin a little duet ☺😉".
Ariana also tweeted "du wop @mattbennett http://www.keek.com/!u8kkaab "(if you look through Ariana keeks you will see she has a lot of videos with Matt).
Ariana tweeted "Chocolate syringes! Yum @alexaluria (@lexie1225) @mattbennett (@bonnott) http://instagr.am/p/MththmSWev/".

Ariana tweeted "Matt Bennett loves modern art http://instagr.am/p/Mtirl9yWff/". Ariana also tweeted a photo of her and Matt laying down backwards like Switched at Birth.
Ariana tweeted "It was meeting so many of you tonight.. ‪#sweatyMoshPit‬ How fantastic was Matt's performance??".
Ariana tweeted to Matt "@mattbennett you were amazing tonight! Thanks for having me on stage w you.. so proud of you!".
In this Video, Matt and Ariana are singing I Think You're Swell together, and in the beginning Ariana is wiping the sweat off of Matt's face. Also, Ariana seemed to be nervous when she was singing with Matt. In addition, she looks at him in a way that could be seen as flirty. At the end of the video, Ariana gives Matt a hug and whispers omething in his ear. She then wipes the sweat off his face again.
In other videos of Matt's performance you can see Ariana in the corner filming Matt with her phone, laughing and cheering him on.
In this Video, Matt and Ariana are waiting to get backstage and Ariana is standing very close to Matt then at around 0:35 they finally go in and Matt turns around for Ariana and you can see him put his arm around her when they go inside.
In this Video, at 5:35 Ariana goes to Matt dancing a little bit and hands him the microphone and he says something to her but the camera turns away.
Ariana tweeted @[mailto:.@mattbennett @oddtaco & @earlxsweat Helium from bday balloons (Pardon Taco's naughty username) lol mattbennett ]@[http://twitter.com/MattBennett oddtaco & ]@[http://twitter.com/oddfuckingtaco earlxsweat Helium from bday balloons (Pardon Taco's naughty username) lol] and in the video when Matt starts talking from the helium Ariana starts to say "oh my god" in a funny way.
In the end of their performance of I Think You're Swell, Ariana hugged Matt.
They both say the lines of Cabbie in the song.
When a girl/boy screamed Cabbie, they both laughed.
Ariana dried Matt's sweat twice.
In this Video, Matt performs his song and you hear in the beginning Ariana scream "Matt Bennett everybody." After Matt performs one of his songs, he asks for water and Ariana gives him her water then after Matt plays some more songs she gives him a towel. Matt then asks Ariana to come up and sing I Think You're Swell with him and she does, and at the end of the video, when Matt ends the show, fans are asking for his towels, so he passes them out and gives the last one to Ariana.
Ariana went to another show of Matt's.
Ariana tweeted: "Another great show tonight Matty... :] http://instagr.am/p/M7hk6FSWbb/" and "And later if you're hungry.. I'll make you some spaghetti woop"
Ariana also retweeted a photo of her and Matt pic.twitter.com/KwN8tME0.
Ariana did 2 shows with Matt.
Ariana tweeted "Video from @mattbennett's show last night.. Enjoy! youtube.com/watch?v=fBCnrc…".In the video Matt and Ariana are singing "I Think You're Swell" and in the beginning Matt starts to make jokes and throughout the video Matt keeps making Ariana laugh and they dance together. Matt also tells the crowd that if Ariana forgets the words to not laugh at her. At the end, Ariana forgets the word and looks at Matt as if to ask him for help, then Matt tells Ariana to play his guitar and she does.
In two shows, Ariana was too shy to sing with Matt.
In this Video, Matt and Ariana are sitting next to each other during the table read.
In this Video, Matt is wearing Ariana's jacket.
Max Landis tweeted "Here's @mattbennett after ghost busting @arianagrande http://pic.twitter.com/FylBbzXU".
In this video (http://www.youtube.com/watch?v=wctfF91BwGw&feature=youtu.be), Matt licks Ariana's forehead.
In one of Ariana's keek videos, she is taking a video of her friend Alexa Luria tripping over a bin, and a member of the Victorious crew asks if she has seen Matt anywhere, assuming that she would know where he was.
This Video is the Freak the Freak Out table read which Matt and Ariana are sitting next to each other laughing and having a good time.
This Video is behind the scenes of the music video for All I Want Is Everything. At 1:15, Matt is speaking and Ariana is looking up at him and they are very close to each other. Also, at 1:46, Matt and Ariana are talking to each other until they get interrupted and Ariana explains the posters while putting the paper on Matt's chest.
In Matt's video called 'CARaoke with Matt Bennett!', one of the tags is lil cutie Ariana Grande.

In this Video, Matt, Ariana, Liz and Avan are all hugging and they collaspe on the floor while hugging. Also, Matt pushes away the chair so Ariana wouldnt hit her head when they fall on the floor. Matt and Ariana put their heads together and start to sing the song playing. When they collapse on the floor, Ariana slips her arm under Matt's arm.

In Ariana's latest livestream, a fan asked what it was like kissing Matt. Ariana said that his lips are big and plush. She ended her answer with 'so, it was nice'.
In Ariana and Liz's livestream, Ariana mentioned 'Ariana Can't Stop The Giggles ' and Liz said that it was like a love letter.
Ariana tweeted two pictures of her and Matt at the Victorious Wrap Party.
In this Video, Ariana is telling Popstar magazine what she got Matt for his birthday and at the end of the video she says "Happy Birthday Matty".
In this Video, Matt, Victoria and Daniella are saying their favorite moments on set and Matt says his favorite moment was scaring Ariana. She was doing a webisode and Matt comes from underneath her bed and screams at the top of his lungs and that Ariana screamed and ran off set to the front door.
In the new July 2012 video, Ariana was seen jumping and dancing with Matt, and Matt has little clips of him, Ariana and Alexa in New York together. In the description he said that this video could also be called the "Ally and Ariana show" because they really steal the show here.
Ariana retweeted Matt's July video.
In the new Bad News Song, Matt and Ariana break character quite a few times (you can tell because they start talking in their normal voices) and show many signs of affection for each other, like their legs are touching through most of the song.
In this interview, Ariana is talking about Cabbie and says "he kisses me", meaning Robbie kisses Cat, but the way she worded it made it sound like Matt kisses Ariana.
In Ariana's livechat, someone asked "Who from the Victorious cast is most similar to their character?" and as Ariana was going through the cast when she got to Matt she said "Matt and Robbie..." and she pauses and smiles then continues to say " a little bit not so much, Matt and Robbie are very different" .

Ariana tweeted: "skid-dley-bop-bopaCaterina" is my 2nd favorite thing@mattbennett's ever said. We're laughing this whole time.http://www.theslap.com/clips/robbie-and-cat-s-bad-news-songs-the-mole…
Ariana retweeted this from Matt: #ArianaGrandeisOURyellowtomato "@ArianaGrande: Yellow tomatoes are soo good!" meaning he thinks Ariana is soo good.
Ariana tweeted this in response to Matt's tweet about her being "Our Yellow Tomato": @MattBennett#mattbennettisourheavenlycreature
In Ariana's latest keek, you can hear Matt laughing in the background with Ariana, meaning they do even the littlest things together.
In Ariana's keek If you look closely at the last two seconds you can see both Ariana and Matt together in the mirror.
Matt is a Scorpio and Ariana is a Cancer. This is a blurb about their compatibility: Cancer is, indeed, in most cases, the ideal partner for Scorpio. Cancer's feelings are strong, just like yours, his/her need to be understood equals yours, and the spiritual warmth (s)he has to offer can make you think you've reached Heaven... ...Scorpio and Cancer. Water and Water. Sometimes it works so well you can hardly believe it... ...Cancer is very attached to his/her home, so you'll spend much time here. Cancer wants a family, and Scorpio is the symbol of procreation, so you complete each other excellently. Cancer is economical and makes long-term investments, so you won't be short of anything next to a Cancer (in theory, at least). Even if your Cancer cannot offer you luxury, (s)he'll always try to make you be in easy circumstances.
Ariana tweeted: "This made my day lol http://www.keek.com/!606taab"
A fan on twitter asked Ariana "@ArianaGrande [http://twitter.com/search/?src=hash&q=%23askariana
askariana
] do you like kpop? Or do you know kpop? If you know, which boyband or girlband and the song that you like and know?" and Ariana replied "@KPOPstarID I know a little bit because @mattbennett is a big kpop fan.. He's played me a bit of it! I love what I've heard of it."
In this Video, Matt, Avan, Liz, and Ariana are in the car and Ariana is sitting behind Matt and all of them are singing and having fun (Matt is driving, Avan's in the passenger seat, Liz is behind Avan and Ariana's behind Matt).
In this Video Matt Ariana (and liz) are sitting on Matts lap and the three of them give a tour in there dressing room and when Matt comes out wearing Leons jacket Ariana starts to laugh and go up to him.
Ariana tweeted: "Poor Matty... :( #emergencyroom #feelbettermatty

Angry Matt Hospital

#MaxMatt&IAreReallyGoodFriends @uptomyknees @mattbennett@c http://instagr.am/p/PGslH5SWUH/
Ariana put this keek up:"truth behind broken glass http://wwwkeek.com/!IZOyaab"
Matt and Ariana did an Angry Matt video together, notice that out of the whole cast Ariana is the one with him and through the video Ariana is calling him Matty ( her nickname for him).
Max Landis (Matt's bestfriend) tweeted "Here in the emergency room with @mattbennett , we got that [http://twitter.com/search/?q=%23emergencyswag&src=hash
emergencyswag
] pic.twitter.com/YVaEPoxu" and Ariana replied "@Uptomyknees @mattbennett you got that [http://twitter.com/search/?q=%23givearianaaheartattack&src=hash
givearianaaheartattack
] swag... Be there in a couple mins" meaning she almost had a heart attack when she found out Matt was in the hospital.
Max Landis tweeted "Spooky Trio hospital adventure with @arianagrande @cameltoad and @mattbennett's severed finger. pic.twitter.com/Vw4H1Gwj".
In this stoop kid Video Matt is filming Ariana and making her say random noises.
In a stoop kid video (that they deleted) Matt was riding on Ariana's back and Ariana said that it hurt so he got down and was hugging her, then she got up and he kept hugging her, than she said "that really hurt yo".
In a StoopKid video, when Matt was in the hospital, Ariana laughed about Matt's jokes.
Matt tweeted "2 open seats in Row X come get your picture taken with the cast of Victorious pay us in your blood we need something to bathe ourselves in." and Ariana replied "@mattbennett you are so odd"
Matt tweeted "As many of you may have guessed Liz and I are broken up. I'll always remember the good times we had and I wish her and Leon the best." and Ariana replied "HAHA RT @MattBennett As many of u may hve guessed Liz & I are broken up. I'll always remember the good times & I wish her and Leon the best.".
In this [Video] the cast is being interviewed at the EMMY's, and at 0:42 Matt is walking behind them and goes "DU WOP" and the whole cast go's "Matt!!", and you can see Ariana leave and go up to him. Then she comes back, then Matt comes back and at 2:14 Matt brings up that Ariana once wrote a song about Jon Bonjovi and they are also standing next to each other. Then Matt brings out his camera and he is doing an Angry Matt with Avan and Liz,then Ariana takes the camera from him so she could film. After Matt says "after the show got cancelled" everyone laughed and Ariana said "awwww", and covers her mouth then gave Matt the camera back.
In this Video Ariana is comforting Matt for losing the Emmy award and she is hugging him for a very long time. Also at around 0:12, you can see Ariana's hand wipe Matt's tears away from his eyes.
In one of Daniella Monet's keeks, it is raining heavily. Matt is wearing Ariana's hoodie and singing his own version of her song "Put Your Hearts Up".
In this Video the Victorious cast are at the Emmys and the cast is passing by and Matt tells Ari that a girl has a card for her.
In Matt's August/September video, he is shown feeding Ariana grapes while she laughs. They are also shown sitting in a golf cart very close together.
Matt tweeted '@ArianaGrande hi' probably because he misses her or wanted to talk to her.
Ariana tweeted "We need to post a new stoop kid @lizgillies @mattbennett http://www.youtube.com/wearestoopkid " Matt replied "@ArianaGrande @LizGillies You've been gone so long I've forgotten how to love" and Ariana replied "@MattBennett @LizGillies the tumbleweed tumbled awaaay".
Ariana tweeted "@mattbennett hear those sleigh bells kids? They're comin for you".
Ariana tweeted "Posting a new Stoop Kid video with @MattBennett from 2009, it'll be up in a min! X"
Ariana tweeted "It's up! http://www.youtube.com/watch?v=ibj6JxDlNDw&feature=plcp … @MattBennett @StoopKidNews More soon RT".
In thisvideo, Matt is reading out tweets a fan sent to Ariana. The fan constantly mentions Ariana's hair color being fake, to which Matt defended Ari by replying 'funny i think Ariana's hair looks great". Matt is seen to get quite exasperated with the fan for voicing her dislike for Ariana's hair color also Ariana is laughing in the backgrond the whole time.
In Ariana's YouTube account, one of her favorite videos is the show that Matt and Ariana made together in New York.
Matt & Ariana's dressing rooms are in the same wing of the studio.
Matt was told to describe Ariana in one word, and he used the word "Lil cutie"
In this Video Ari is filming Matt being silly and laughs alot with him.
In this Video it is behind the scenes of the cast in Orlando and while Victoria is singing " Make It In America", Ariana goes over to dance with Matt. He seems to be upset and is seen yelling, causing Ariana to back off.
In Ariana's latest livestream, she mentions that she's going to wish Matt a happy birthday.
Ariana tweeted Happy birthday @MattBennett!!!
Ariana tweeted "Great show tonight birthday boy @MattBennett pic.twitter.com/a7o9TNIa".
In the Victorious episode, One Thousand Berry Balls, both have someone close to them appear in this episode. (Matt has his sister, Ally, and Ariana has her best friend, Alexa)
In the music video for Here's 2 Us, Ariana is seen feeding something to Matt.
On Ariana's ask.fm, a user asks who Ariana's favorite comedian is. To which she replies 'I really like Dane Cook. Matt Bennett always gets so mad at me when I say that but I love' him!' I also love Zach Galifinakis, Will Ferrell, Seth Rogan, Ellen, Ben Stiller, Margret Cho, Seth McFarlane. I'm probably leaving a ton out but if I think of any more I will tell you :)' 
Ariana went out for dinner with Matt and Liz.
In a Q&A video on Ariana's youtube, she and Liz are talking about hair and Ariana goes on to mention about how funny she thinks Matt's hair is. She also implies that she told him it looked silly and says that he told her he was going to get it cut (today). She mentions that she hates boys who have hair on their chest, and Matt does not. This implies that Matt is her type. She also mentioned that Matt invited her (and Liz) to a Rugrats party.
Ariana posted a Keek which shows Matt messing around in Ariana's studio. She also seemed excited he came to visit her.
On Ariana's ask.fm, a fan asked what Matt is like, to which she replied' He is a sweetheart and will always be one of my favorite people. I adore him.' Somebody also asked what kind of guys she liked and the answers describes Matt (Sweet, funny, secure but not cocky. Somebody who's got a good heart and knows how to make me laugh. The first thing I notice physically on a boy is always lips. I love good lips) Ariana said that Matt is a sweetheart and is one of the funniest people she'll ever meet. She also stated that Matt's lips are big and plush and that she thought the kiss was nice.
Ariana has seen The Virginity Hit
Ariana says that Matt is one of the most important boys in her life on her ask.fm.
Ariana met Taco through Matt.
A fan tweeted Dan: @DanWarp Do Ariana and Matt get embarrassed when they have to kiss on set? He replied with: @confettiariana Haha... nah, I think they have fun with it! :) This suggests that either Matt or Ariana have told Dan they like kissing each other, or that Dan thinks that they enjoy it.
During Ariana's livechatMatt called to let her know that he's watching. Earlier in the Livechat, Ariana's grandma said that her favorite episode of Victorious is the one where Robbie sang I Think You're Swell to Cat (The Blonde Squad), and Matt thanked her. He asked if Nonna had seen he and Ariana singing it together, and when she said she hadn't seen it, Ariana suggested that she show it to Nonna. Before hanging up, Ariana told Matt she loved him.
Ariana also mentioned that she likes the song I Think You're Swell. Nonna also called Matt 'dear'. According to an earlier interview done by Ariana, she has really overprotective grandparents, but since Nonna called Matt 'dear' that might mean that she has a soft spot for him. Ariana also said that somebody with the last name 'Minaj' was related to 'Nicholas Minaji', a nickname Matt gave to Nicki Minaj.
Matt tweeted: 'I had a dream that @ArianaGrande made a clone of herself but it was evil and it wanted to be the only Ariana and then it made another clone' and 'The second clone was made dumb so everyone would think @ArianaGrande was dumb and the evil one could take over.' This suggests that Matt has been thinking enough about Ariana to dream about her.
On Ariana's askfm someone asked her what was her favorite victorious scene and she said "when Robbie sings I Think You're Swell to me".
Ariana tweeted "Watching with @mattbennett @lizgillies @atjogia ❤. Everybody turn on Nickelodeon http://www.keek.com/!p6Odbab "
Ariana tweeted "Matt Bennett right now @mattbennett pic.twitter.com/6ElGC7y9" note that Matt is on Arianas bed.
Ariana posted a [[1]] of Matt in her room crawling on the floor and he was making high pitched voices and Ariana was getting scared of it and saying it sounds creepy and at the end of the video Matt jumps up doing a high pitched voice hugging Ariana then he gets hurt .
Ariana posted a keek of Matt doing wierd stuff and in the end leon says to Ari" youcaught yourself a matt bennett" http://www.keek.com/!8nSdbab#BJQdbab
Ariana posted two keeks the first on is her Matt and Liz laying on a bed ( Matt and Ari are next to eachother) and Matt is making them laugh . the Second is of her Matt and Liz laying on a bed and When Matt says he found something Ari asks him what did you find and he says rope the Ari and Liz both start cracking up.
On February 3, 2013 Matt tweeted "Last night I dreamt I was @ a bakery + got a jam samwich. It was good I said they should add peanut butter but they said 'that is undoable' " The jam could represent something good in his life, the peanut butter represents something that would go good with it, but for some reason they can't go together. Since the dream took place the night of watching the final episode of Victorious at Ariana's house it could mean that he thinks and/or hopes he and Ariana would be good together, but he there's something that's keeping that from happening.
Ariana tweeted:"'I've never seen Bridesmaids."And Matt replied:"@ArianaGrande I got you a present in Japan." Ariana answered:"@MattBennett aww thanks Matty. :) I've missed u. When do u come back?" Then Matt replied:"@ArianaGrande Right now! I'll be back tomorrow evening."And then Ariana

replied:"@MattBennett Sweet I get back from Ny on Weds. I can't wait to hear all about ur trip." 
Matt tweeted:"Tempted but I didn't buy it #didntbuyit http://instagr.am/p/WKHekQmf1t/." And Ariana replied:"@MattBennett You absolutely should have bought that." Matt answered:"@ArianaGrande You haven't seen the things I DID buy..."
They won as favorite Tv show at the KCA's 2013 and did backstage an interview and during that Ariana and Matt hugged.
Matt tweeted:"@ArianaGrande's new song is out and it's great, but I was originally supposed to guest on it! Hear my version here: https://soundcloud.com/mott-bonnott/the-way-matt-bennett-guest …"And Ariana replied:"@MattBennett Omg ily. Calling you."
Ariana tweeted "@MattBennett found the gifts you brought me from Japan. I'm laughing. The best. :)"
Ariana tweeted:"happy birthday to one of my best friends on the planet whom I think is pretty swell... @mattbennett !!! seeeeee ya later you old dingus" and Matt repiled:"@ArianaGrande Awww you little cutie! Thanks!"
Matt favorited a video of Ariana doing a Q&A in her showcase in Tokyo.
Matt and Ariana went for a drive, and during the ride Matt revealed his own rendition of Ariana's popular song "Honeymoon Avenue", making Ariana giggle.http://statigr.am/p/657342865110540085_536275838#/detail/657342865110540085_536275838
In this video of them, Matt said that he was Ariana's biggest fan and also kissed her on the cheek.
Ariana and Matt met up and hung out in Japan as she was touring and he was on his vacation.http://www.disneydreaming.com/2014/06/17/ariana-grande-and-victorious-co-star-matt-bennett-reunite-in-japan/
Following the meet up in Japan Ariana filmed a video of Matt lip synching and dancing to Beiber.http://www.disneydreaming.com/2014/06/20/video-ariana-grande-and-matt-bennett-reunite-with-the-help-of-justin-bieber/
Gallery
Click here to see the photo gallery for Mariana.
Video Gallery