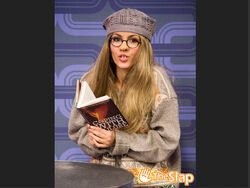 Louise Nordoff is a fictional character played by Tori Vega, created by Jade West and Cat Valentine. This is the second fictional character played by Tori as a scheme. Her first came when she played as Crystal Waters in Beck's Big Break.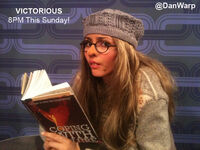 Louise is a pathetically nerdy girl who set herself up to be picked to compete against Hayley Ferguson and Tara Ganz in a singing contest at Karaoke Dokie in the episode Freak the Freak Out. She has long dirty blonde hair, bad skin, a nasal voice and apparently a broken nose. She also wears huge glasses, a thick wool sweater with a matching hat, and seems to have trouble applying makeup, as evident by her lipstick-stained buck teeth. Her copy of the book "Coping With Failure" actually belongs to Sinjin. After Jade, Cat, Beck, and André were banned from singing at Karaoke Dokie, Jade and Cat challenged them to compete against anybody at the club.
Hayley and Tara seemed secure in the belief that Louise was such a loser, that they had a sure chance of beating her. When "Louise" was called up on stage, she announced that she wanted to sing the already existing song "Freak the Freak Out", despite the fact that the emcee was convinced that she wasn't good enough to handle such a song. Louise insists on performing the song anyhow, and in the middle of the first verse, Tori rips off her disguise, jumps on Hayley and Tara's table, dances throughout the club, and even invites Jade and Cat to join her on stage. Even after removing her disguise, Tori never reveals her true identity to everyone.
Gallery
Community content is available under
CC-BY-SA
unless otherwise noted.