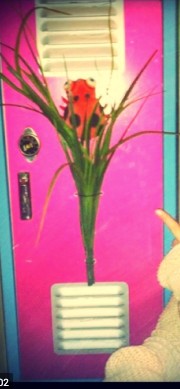 At Hollywood Arts, it is a tradition for students to decorate the lockers on both the inside and outside. They are featured in many episodes. Once students graduate Hollywood Arts, they have to clean up their lockers.
Character's Lockers
Tori: "Make It Shine" quotes with a dark blue skyline background that lights up. It first appears in The Bird Scene. She also has pictures of Katy Perry inside. In a Drive By Acting Exercise video, a poster can be seen titled "Who's Hot?" with Dan Schneider's picture above it. In one scene in Crazy Ponnie, instead of saying "Make It Shine", it says "Make It Rot" when Ponnie changed the front of the locker out.
Jade: Black with scissors glued on. Next to Robbie's locker.
Beck: Transparent (clear). Inside there is a sign that says "The Haircut Commandments." Diagonally underneath André's locker.
Sinjin: Light blue with regurgitated food pieces that were never digested, stuck on with an industrial adhesive.
Robbie: Red with a mosaic of baby bottle nipples from his childhood. Inside there is a picture of a cat. It is slightly smaller than all the other lockers since the bottom is Rex's separate locker (how this was accomplished is unknown). He stated in Tori & Jade's Play Date that he keeps rubber gloves and sponges in there also.
André: A working keyboard that he must play a certain arrangement of notes to unlock and lock. Diagonally above Beck's locker.
Rex: Red with Chrysler emblem and small chains (the bottom fourth of Robbie's locker is separated to make this one).
Cat: Pink with a piece of red flower on the middle of the locker.
Photo Gallery
Goofs
In the episode The Great Ping Pong Scam, in the scene set two years before Tori joined Hollywood Arts, her locker can be seen even though she wasn't a student at the time.
Community content is available under
CC-BY-SA
unless otherwise noted.