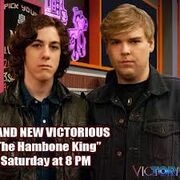 Jarold Ardbeg is a character who appears in the episode The Hambone King. He claims to be the true "Hambone King" and challenged Robbie to a hamboning competition after seeing Robbie's hamboning video online because he believed that he is better than Robbie. He used to hambone with Tori seven years ago, when they were the best boy and girl hambone team in the Western United States, but their partnership ended as according to Tori, he got jealous of her because she was a better hamboner than him and Tori caught him hamboning with Suzy McCallen. His best friend is Merl.
In the episode, Jarold and Merl show up at Nozu and challenge Robbie to a "hambone-off" at Nozu, which Jarold wins. After Robbie trains with Tori and improves his hamboning, he challenges Jarold to another "hambone-off". However, Merl cheats on Jarold's behalf by throwing sushi at Robbie, causing him to lose his rhythm and lose the competition. Tori competes against Jarold to avenge Robbie, ultimately defeating him.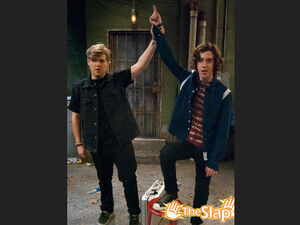 Community content is available under
CC-BY-SA
unless otherwise noted.