Holly Vega
General Information
Gender:
Female
Hair Color:
Brown
Family & Friends
Family:
*David Vega (Husband)

Relationships:
David Vega (Husband)
Other Information
Interests:
Acting
Series Information
First appearance:
Pilot
Last appearance:
Star Spangled Tori
Portrayed By:
Jennifer Carta
Holly Vega is a minor character in Victorious. She's Tori and Trina's mother and the wife of David Vega. She appears in Pilot, The Birthweek Song, Sleepover at Sikowitz's, Robarazzi, A Film by Dale Squires, Locked Up!, Helen Back Again, Jade Gets Crushed, Driving Tori Crazy, Tori Goes Platinum, Crazy Ponnie, Cell Block, The Bad Roommate and Star Spangled Tori. In all, she has appeared 14 times on the show. When her daughters get too out of control, she tends to stay out of it. She also apparently has a hard time understanding common sense. In Driving Tori Crazy, she made herself breakfast and didn't make anything for Tori and Trina.
She is portrayed by Jennifer Carta.
Appearances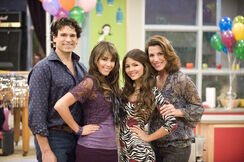 Trivia
She seems to be close to her girls, as in The Birthweek Song, Trina was excited to show her the newly-purchased Fazzini Boots, and in Robarazzi, when Tori confided in her about why she was in a weird mood.
She is aware of Trina's needy personality, as she told Tori that Trina had to come with to Yerba in Locked Up! after Trina hit her father in the face with a golf club.
She seems to be fond of crème brûlée, as shown in Sleepover at Sikowitz's.
She seems to not get along with Trina as well as she gets along with her younger daughter, Tori.
She is from Ireland.
She does a weird shaking exercise with Tori in Helen Back Again, which Tori doesn't get the point of it.
Gallery
Click here to see the photo gallery for Holly Vega.
Community content is available under
CC-BY-SA
unless otherwise noted.