Forever Baby is a Victorious song that appears in the episodes Freak the Freak Out, Rex Dies, The Wood and Tori Goes Platinum. The song has been sung in both English and Spanish.
Robbie and Rex sing it together at Karaoke Dokie in the episode Freak the Freak Out.
Tori and Robbie sang this to Rex in Rex Dies.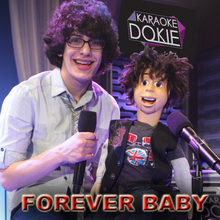 As revealed in Rex Dies, this is Rex's favorite song, and his favorite part is the chorus.
Tori and Jade also sang this song to Festus after trashing his car in the episode, The Wood. They started to sing it in English, but Festus then told them to sing it in Spanish.
Rex is briefly shown singing this song for his audition tape in Tori Goes Platinum.
It could be called Move Your Body because Dan Schneider made a blog about upcoming Victorious episodes and he mentioned that Matt Bennett would be singing the song, which he called Move Your Body.
This song has been sung 4 times in the show.
Lyrics
English version

Move your body right next to mine
Feel the beat and we are lost in time
I am yours and now you are mine
Forever Ba-a-by!
All the things we want to do
Never gonna let go of you!
Meant for me and I'm meant for you
Forever Ba-a-by!

Spanish version

Pon tu cuerpo cerca del mio,
en el tiempo perdámonos,
yo soy tuyo y tu eres mio,
por siempre baby,
yo no se que vamos a hacer,
nunca te dejare,
eres para mi y yo para ti,
por siempre baby.
Videos
Community content is available under
CC-BY-SA
unless otherwise noted.