Cobra Kai Season 4 - The Loop
Play Sound
"Favorite Food" is a song performed in the episode The Diddly-Bops. It was written by André and performed by the short-lived The Diddly Bops group, which included Tori, Cat, André, Beck, Jade, and Robbie, for Kevin Chase's son Henry's fourth birthday.
In The Show
Sikowitz offers Tori, Jade, Beck, Cat, Robbie, and André a chance to earn $1,000 performing at the birthday party of a 4-year-old and his friends, who's father happens to be a friend of Sikowitz. After a song about noses is rejected by the rest of the characters, along with a song about broken glass by Robbie, André decided to write one called "Favorite Food". At the same time, he's also awaiting a possible deal from a record company. For the time being, each of the characters perform the song in a goofy costume, something that all except for Cat are embarrassed to be doing. A video of the performance was uploaded by one of the kids to the site Videos for Kiddios. After reaching the top of the home page, the video ruins André's image and his chance of signing with a major record label, but it also inspires him to write "Song2You". This song then puts him back in the manager's good graces.
Costumes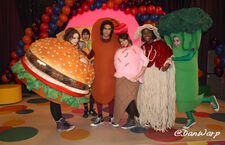 In Reality
"Favorite Food" was actually co-written by Leon Thomas III, Joshua Schwartz, and Brian Keirulf. However, it was written originally as "Song2You" when Leon Thomas III was 14.
Lyrics
What I like about cheese
Is that you can put it on veggies
And it tastes... Mm mm so good
Cat: Yeah!

I like to talk about food
Cause it's my favorite thing to do
Every treat from yellow to blue
Red and green so let's all sing

Tell me all about your favorite foods
Robbie: Mine is Pizza!
Jade: And I like hamburgers too!
I'll eat ice cream cake
Till my tummy aches
Then here's what I'll do
Here's what I'll do
Share some of mine with you

Yummy yummy
In my tummy
Yummy yummy

I like noodles in a bowl
Chickens nuggets make me loose control
'Cause they taste... Mm mm so good
Cat: Yeah!

I'll eat ice cream cake
Till my tummy aches
Then here's what I'll do
Here's what I'll do
Share some of mine with you
Yummy Yummy
Audio