Eliana is the real life friendship/pairing of Elizabeth Gillies and Ariana Grande (Eli/zabeth and Ari/ana), although a few people also call it Liziana (Elizabeth and Ariana) or Ariz (Ar/iana and L/iz). They are best friends in real life who met on the set of 13 the musical. (when they were 15) and hang out onscreen and offscreen. It has nothing to do with Cade, although some fans might think so.
Eliana Moments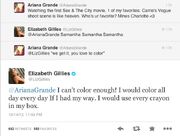 This videos was controversial due to a comment made by Ariana at the start of the video, and was reuploaded by Dan with the one line removed. (Eric Lange comments on the fact that the comment was filmed with "...and the camera was rolling.")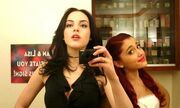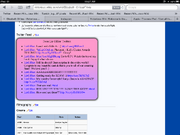 Gallery
Click here to see the photo gallery for Eliana.
Video Gallery
Community content is available under
CC-BY-SA
unless otherwise noted.