Cobra Kai Season 4 - The Loop
Play Sound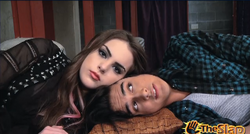 Drive-by-acting exercises are performed for Sikowitz's class for the Hollywood Arts students to practice acting. They are also a series of web videos posted by Sikowitz on TheSlap. There were four episodes and one appearance on TV in The Bird Scene.
TV
"Angry Englishmen"- Everyone in the class acts as Angry Englishmen.
"Terrified Dolphins"- Everyone in the class acts as terrified dolphins.
"Elderly People Walking Barefoot on Broken Glass"- Everyone in the class acts as old people stepping over broken glass.
Episodes
1. "Jade and Beck"
The first episode starts with Jade and Beck together. Jade wants to know if the camera is on and she wants Beck to tell her he loves her. He does, and then tells her to tell about their acting exercise and shows the clip. The exercise to be for Jade to be a weird man that works at a fast-food restaurant and Beck to be a man who wants food. Jade, speaking in a man's voice, keeps interrupting Beck's character with comments on how attractive he is. The episode is well known, as one of the lines is popular - "Look at those abs!"
2. "Tori"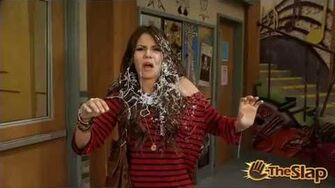 The second episode starts with Tori and Cat at Tori's house having a sleepover. It is 3:30 AM, and Cat has little plastic "dog-horses". Tori and Cat, giggling, try to explain what happened the day. The exercise is for Tori to be an elderly lady who often says "M'yeeehh!" and for Sikowitz to be a man named Barney trying to sell her a horse. Sikowitz sprays her with silly string twice to test her to stay in character, much like the scene in The Bird Scene where he hit Cat with a ball.
3. "Andre and Cat"
The 3rd episode starts with André and Cat at Cat's house, while Cat is playing with her giraffe, named "Mr. Longneck," (and attempts to get André to play with it). They then show where they started with the day. While Cat plays as a nurse who bites people, and Andre plays as a man who grew alone on an island, and doesn't speak a language, therefore making random sounds. At the end, Cat bites André which causes them to break character due to Cat supposedly breaking his skin with her teeth. At the end of the video, Cat still tries to play with her giraffe, while André just turns the camera off.
4. "Tori and Robbie"
In the beginning of the video you can see Tori and Andre at Tori's house. Then, it's switched off to Tori and Robbie, who stands in front of Tori's locker. Sikowitz surprised them with one of his Drive-by-Acting Exercises. Tori has to play a girl in the mall who is searching for her phone an Robbie is an off-duty medical technician who is an expert in giving mouth-to-mouth resuscitation. In the whole scene, Robbie gives Tori three mouth-to-mouth resuscitations.