The Sandman Will Keep You Awake - The Loop
Play Sound
Beckowitz



Shipped Characters:

Status:

Friends, Teacher/Student

Relationship Status:

N/A

Ships Like This:
Beckowitz (Beck and Si/kowitz) is the friendship pairing of Beck and Sikowitz (a student-teacher relationship). The pairing will never happen romantically on the show because of the large age difference.
This page is for friendship speculation only.
Moments
Season 1
Sikowitz tells only Jade specifically to not kiss Beck in class, even though Beck doesn't do anything to push her away.
When Beck mentions that he is an alien during alphabet improv, Sikowitz exclaims, "Ooh, a twist!", showing that he was impressed.
Sikowitz asks Beck to give an example of alphabet improv in order to explain the concept to the class.
Sikowitz leans to Beck and says, "You see the bird too, right?" to which Beck responds, "I do."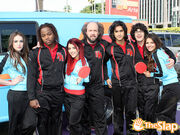 Sikowitz was not impressed because Beck was late.
Beck apologized to Sikowitz for being late.
Sikowitz had Beck tell the group about what it's like to work on a real movie, stopping class (and his rant on robots) to do so.
Sikowitz has Beck be in charge of acquiring the Turblow Jet.
Sikowitz has Beck (and Tori) perform a scene at the beginning of class.
When Sikowitz asks where his coconut milk is, Beck reminds him that he is drinking it.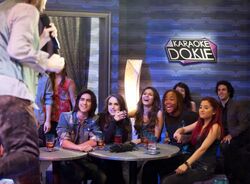 Beck and Sikowitz are both involved in the scam.
When Sikowitz returns to the restaurant when Tori and André are performing, he sat next to Beck.
Beck gives Sikowitz a weird look when he sits next to him.
In pictures for the episode, Sikowitz has his arm around Beck.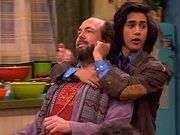 Beck clapped and cheered during Sikowitz's performance.
Sikowitz tells Jade to stop being such a gank to Beck and says that she is very lucky to have him for her boyfriend.
Beck runs to hug Sikowitz after he sings Number One along with the rest of his friends.
Sikowitz invites Beck to his house for his Method Acting activity. 
While acting as Malcom, a man who invades people's personal space, Beck grabbed Sikowitz and rubbed his earlobes, complimenting them.
Season 2
Sikowitz had Beck (along with Cat and André) perform a scene for the class.
Sikowitz laughed when Beck says that his aunt wouldn't let them come to Cancun when she found out he was bringing Jade.
Sikowitz stands with Beck (and Robbie) during the performance of All I Want Is Everything.
During this number, Beck turns and smiles at Sikowitz.
Beck stood up in his chair and tries to look when Sikowitz is checking to see if he's wearing underwear.
Beck smiles when Sikowitz announces that he forgot to wear some.
Beck pats Sikowitz's shoulder.
Sikowitz called Beck "Elvis".
Sikowitz had Beck be a part of the parade team even though he was not in his class when he made the announcement.
Sikowitz laughed immensely and does a funny dance when he sees Beck (and André) in a pair of candy jammies.
Beck helped drive the float because Sikowitz had a semi-suspended driver's license.
Beck along with André is concerned about where Sikowitz is, after he leaves the cupcake.
Sikowitz sarcastically tells Beck that he should hate that anything would keep Beck awake in his class.
Sikowitz doesn't get mad at Beck for sleeping in his class.
Beck thanks Sikowitz and resumes sleeping.
Sikowitz texts Beck his 'Secret Santa' assignment (Meaning Sikowitz has his cell phone number/ along with the rest of the class)
Sikowitz asks Beck if he can have his cricket, and Beck agrees.
Beck tells Sikowitz he's "the best".
Sikowitz calls his student "Becky".
Sikowitz holds Beck in his arms, commenting that his heart is vibrating.
Season 3
Sikowitz lets Beck choose a role for his play.
Sikowitz lets Beck take a break during rehearsal because he is satisfied with his performance.
When everyone is arguing about getting a role, you can hear Beck tell Sikowitz he is fine with whatever part he gives him.
When everyone was hugging each other at the end, Beck went to hug Sikowitz.
Beck looked surprised when Sikowitz exploded.
Season 4
When Meredith asks Beck who his favorite teacher is, he answers, "Easy, Sikowitz."
Other Programs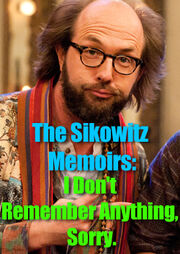 Sikowitz has Beck (and Tori) perform a scene for the class.
Sikowitz gives Beck advice on how to convey believable terror because he wants him to improve his acting.
Sikowitz attempts to scare Beck multiple times throughout the episode.
Beck does not get scared by Sikowitz.
Sikowitz and Beck enjoy the hot tub together (along with Jade and Spencer).
Sikowitz congratulates Beck in the hot tub for not getting scared.
After he scares Tori, Sikowitz puts his arms around Beck and shakes him in a friendly fashion.
TheSlap Hints
Beck slaps Sikowitz in the video of the students at his home.
Beck tells Sikowitz that it is Friday, not Sunday and that he has missed 4 classes so far.
Sikowitz slapped Beck in the video of himself performing 'My World'.
Beck lets him know that he has missed 21/2 days of school while recovering from reggae night.
Sikowitz forces Beck to do a drive-by acting exercise for him (with Jade).
Beck posts "Pro Tip: Compliment Sikowitz on his cologne today and he'll give you 5 bonus points on today's test." and Sikowitz responds, "It's true! I will!".
Gallery