Doctor Strange in The Multiverse o Madness - The Loop
Play Sound
"You have to be thankful, and I think being in this business is one of the most important things is to give back because there's no better feeling than knowing that your work is being appreciated by people."
— Ariana Grande
Ariana Grande

Gender:
Female
Age:
28
Born:
June 26th, 1993
Character:
Cat Valentine
Occupation:
Singer, actress
Years Active:
2008 - present
Husband:
Dalton Gomez (m. 2021)
Ariana Grande-Butera (born June 26, 1993) is an American actress and singer. She is known for playing Cat Valentine on Victorious and Sam & Cat on Nickelodeon. After her role as Cat, she rose to prominence in the music industry, earning multiple platinum-selling albums and eleven Grammy Award nominations including two wins.
Background
Birthdate: June 26, 1993
Age: 28
Hair Color: Dark Brown (Naturally); Red Velvet (Dyed); Dark Red (Dyed); Brown (Current hair color); Blonde (Dyed); Lilac (wig)
Eye Color: Brown
Star Sign: Cancer
Chinese Zodiac sign: Rooster
Early life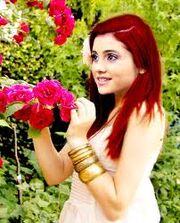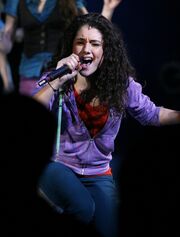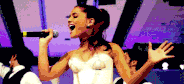 Ariana Grande was born and raised in Boca Raton, Florida to Joan Grande and Edward Butera. She is of Italian descent, half Sicilian, half Abruzzese. She has an older half-brother named Frankie Grande who is an actor, producer and director. She attended North Broward Preparatory School.
As a child, Ariana began performing at Boca Raton's former Little Palm Theatre for Young People. A few years later, she started to perform in Fort Lauderdale Children's Theater (FLCT). Grande's hair is also naturally brown and curly, but was asked by creator Dan Schneider to dye her hair red because he didn't want a cast of all brunettes. (Because of the shooting schedule, she has to have her hair re-dyed every other week.) She enjoys getting "technically involved" with the TV show: she likes to help and/or watch the producers put together the songs, camera shots, etc.
Career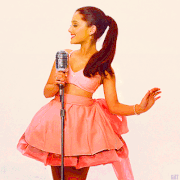 In 2008, Ariana was case in the Broadway musical 13 as Charlotte, which won her a National Youth Theater Association Award. Elizabeth Gillies also starred in 13 as Lucy. Ariana played the role of Miriam in the first reading of the new musical Cuba Libre composed by Desmond Child. In summer 2009 and summer 2011, she taught music and dance to children in South Africa as a member of Broadway in South Africa. She has appeared as a contestant in a celebrity episode of the Nickelodeon game show BrainSurge. Ariana also does popular impressions of people on her YouTube channel, including Shakira, Britney Spears, and others. She played the role of Miriam in the first reading of the forthcoming musical Cuba Libre composed by Desmond Child.
Ariana performed the National Anthem for the first live ESPN broadcast of the Anthem for the Florida Panthers when she was 8 years old.[3]
In December 2012, Grande portrayed the character Snow White in the Pasadena Playhouse production of A Snow White Christmas.
On June 8, 2013, a spin-off of Victorious and iCarly called Sam & Cat premiered on Nickelodeon in which Ariana Grande reprised her role as Cat Valentine (from Victorious) and Jennette McCurdy reprised her role as w:c:icarly:Sam Puckett (from iCarly). The two characters become roommates and start a babysitting business to fund their adventures. Originally, Grande was supposed to remain in the Cat role on both Sam & Cat and Victorious, but the abrupt cancellation of Victorious ended these plans. The show won the 2014 Kids' Choice Award for Favorite TV Show.
In 2013, Ariana broke into the music industry and gained mainstream success. Her first single titled "The Way" featuring Mac Miller was released on March 26, 2013. It debuted on the Billboard Hot 100 at #10 and later moved up to the #9 position. The song went on to receive a double platinum certification by the RIAA, meaning it had sold over 2 million copies in the United States alone. Grande later released two more singles from the album titled "Baby I" and "Right There" featuring Big Sean.
On September 3, 2013, Grande released her debut album title Yours Truly which she had worked on for three years. It debuted at #1 on the US Billboard 200 selling 128,000 copies in its first week. Ariana Grande has been nominated and won numerous awards most notably the American Music Award's New Artist of the Year. Her back-up dancers include/have included Ian Paget, Isaac Calpito, her brother Frankie, Mike Shawn, Emmanuel "Manny" Hernandez, Shane, Scott Nicholson, Brian Nicholson, and Jordan Viscomi.
In 2014, Ariana released her lead single "Problem" for her second studio album My Everything. The single hit #1 on iTunes in 37 minutes and debuted #3 on Billboard Hot 100 with 438k sales on its first week. She also released 4 other singles ("Break Free", "Bang Bang", "Love Me Harder", and "One Last Time"), 3 of which were Top 10 singles. Her album debuted #1 on the Billboard 200, with 169k sales in the first week. Grande was nominated for 2 Grammys, Best Pop Vocal album for My Everything and Best Pop Collaboration for Bang Bang. After then, Grande went on to her first worldwide tour "The Honeymoon Tour" it grossed $80M.
In October 2015, Ariana released her a single "Focus", which debuted #7 on the Hot 100, intended for her third studio album initially called "Moonlight". The album was ultimately titled as "Dangerous Woman". Then in March 2016, Grande changed her lead single for her album to be of the same name, which peaked and debuted #10.
Grande has followed up her initial successes with 2 more albums in 2018, titled Sweetener and Thank U, Next. Sweetener earned Grande her first Grammy Award, for Best Pop Vocal Album.
Trivia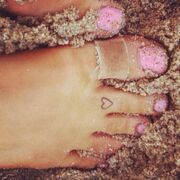 Her height is 5' 2½" (1.58 m).
She is best friends with Liz Gillies, who is another star from the show.
Her name was inspired by Princess Oriana from Felix the Cat.
Ariana has the most Introductions (2 in Season 1, 2 in Season 2 and 3 in Season 3) in the Victorious series.
Ariana was absent in two Victorious episodes ("Jade Dumps Beck" and "The Wood").
Ariana accidentally tweeted a picture of Cat's (her) bras; she didn't realize they had her size on it (32A).
She has to make her voice higher to play Cat.
She has a big brother named Frankie. He is also a performer and producer who went on tour with her as one of her dancers.
Her fashion icons are Marylin Monroe and Audrey Hepburn.
Her music icons are Mariah Carey, India Arie, Celine Dion, Imogen Heap, and Whitney Houston.
She loves Judy Garland.
She said she has a crush on Bruno Mars.
She's allergic to bananas, shellfish, and some cough medicines.
Her YouTube channel is osnapitzari (Oh snap, it's Ari!). She joined on January 21, 2007.
On December 10, 2011, she reached a million followers on Twitter.
When Ariana hit 4 million followers on Twitter she wrote a twitlonger.
Ariana hit 5 million followers on February 24, 2013 and wrote a Ariana twitlonger - Feb 24, 2013 to her fans.
Ariana has been named one of the Most Asked Actor Online above Charlie Sheen and Reese Witherspoon. This means, online, people ask Ariana for her favorite trends, music, products, etc. more than any other actor online. She has received over 200 world-wide trending topics for a cash value of $240,000,000 and continues to be one of the most influential people online. She is the 37th most re-tweeted person on Twitter and ranks in the 100% percentile of klout.com's influences.
She has a birthmark on her left shoulder/back and a dimple in her left cheek.
She's a huge techno-junkie and uses Garage Band to create remixes of her favorite songs using an Apple computer, a LOOP keyboard, and a home studio, seen on this video.[4]
She's a fan of the Harry Potter series. Coincidentally, there's a character named Ariana (Ariana Dumbledore) in the books. Her favorite characters in Harry Potter are Luna Lovegood and Draco Malfoy.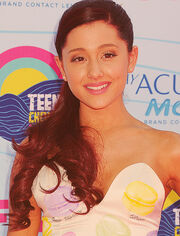 She and Liz Gilles both passed their driving test on June 13, 2012.
She used to collect stuffed animals, hockey pucks, and Halloween masks.
Her fanmail address is 265 S. Federal Hwy Suite 331 Deerfield Beach, FL 33441.
She was on BrainSurge and wore a pink t-shirt and skinny jeans. She had 130 points, allowing her to move onto the next round, being the only girl to compete. But then she lost, along with Carlos (from Big Time Rush) and was the first one to slide down "The Brain Drain". The episode aired on April 21, 2011.
She has a talent for mimicking the speaking/singing voices of others, including but not limited to Britney Spears, Shakira, Katy Perry, Judy Garland, Jessie J, her best friend and co-star Liz Gillies, a laughing baby, a crying baby, The Little Mermaid and a lamb "baaa-ing".
She currently lives in LA with her brother Frankie. Her house is over 100 years old and was previously owned by Francis Ford Coppola, the director of The Godfather. She says so in this video.
Her first crush was Justin Timberlake (she was three).
She went to her first concert, a Katy Perry concert, in the summer of 2011.
She says she can't stand it when you smile at a stranger and they don't smile back.
She went to Washington, DC for the "Worldwide Day of Play 2011".
She is hypoglycemic (her blood sugar gets low). As a result, she once ate in class and was put into detention. In the end, her mother took her out of it.[5]
The first time she ever ate a taco was when she was in a Victorious episode, "The Breakfast Bunch".
Jennette McCurdy once accidentally made Ariana's phone number public.
Ariana put her hands in cement at Planet Hollywood, New York, on December 22, 2011.
Huffington Post named Ariana Grande the third most influential actress online above Miley Cyrus and Jennifer Aniston and asked her to represent the voice of her generation by becoming their featured high-school section journalist.[citation needed]
Ariana wrote a news article about bullying, click here to read it.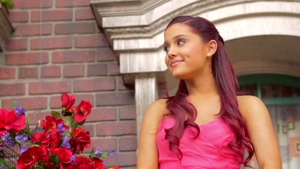 Broadway for South Africa, the organization that Ariana supports, used her debut single, "Put Your Hearts Up".
The "Put Your Hearts Up" music video was released on the 14th of February (Valentine's Day). Watch it here.
Ariana's birthday is the same as Jennette McCurdy's, but Jennette is one year older (born 1992) than Ariana (born 1993).
Ariana originally was going to release demo CD in 2007 but never did. She posted previews of some songs in her CD, called Rollercoaster, Let It Rain and Higher.
She thinks penguins are cute.
Her favorite fruit is the strawberry.
Her favorite cereal is Cocoa Puffs.
Her favorite snack food is Poptarts.
Her favorite colors are periwinkle blue, marshmallow white, sea foam green, and coral/pale pink.
Her favorite subject is Science.
Her favorite candies are Smarties and Razzles.
Her favorite types of movies are romance and comedy.
Her favorite movie is "13 Going on 30".
Her favorite restaurant is Toast.
Ariana's favorite One Direction song is "One Thing".
She loves hair bows, dolphins, British accents, and polka dots.
She loves swimming.
She loves sea creatures.
She likes "Whole Foods Market" grocery store.
Ariana likes the TV show Gossip Girl.
She can rap.
She attended North Broward Preparatory School. She once filmed her teacher shouting at her. Watch it here.
On April 21, she got a little heart tattooed on her second toe, dedicated to her song "Tattooed Heart". Watch it here.
According to her Nick Screen Test, if she could swap lives with a celebrity for the day it would be Michael Jackson.
Ariana was in a Nickelodeon movie called Swindle, along with Jennette McCurdy. In the movie, Ariana portrayed a very peppy cheerleader named Amanda. Ariana tweeted about it.
She is dated Jai Brooks from summer 2012 to summer 2013. They met online and finally met in person on New Year's Eve (December 31) and spent it together. You can read about it here and here.
She appears in the title sequence 18 times.
Ariana was engaged to Pete Davidson in June 2018,[6] but they called off their engagement on October 13, 2018.[7]
Ariana is currently dating real estate agent Dalton Gomez.[8]
Ariana co wrote Blackpink and Selena Gomez's new single named "Ice Cream" with Victoria Monet.[9]
She is the second cast member to get married, the first was Liz Gillies.
Stage and screen credits
Filmography
| Year | Film | Role | Notes |
| --- | --- | --- | --- |
| 2013 | Swindle | Amanda Benson | Film Debut |
| 2016 | Zoolander 2 | Coco Chanel | Cameo Appearance |
Television
Year
Show
Role
Notes
2010-2013
Victorious
Cat Valentine
Main Role
2010
BrainSurge
Herself
Contestant
2011
iCarly
Cat Valentine
Guest star in "iParty with Victorious"
(Season 4, Episodes 11–13)
2011-2014
Winx Club
Princess Diaspro
Recurring role, voice
2012
Figure It Out
Herself
Judge Panelist
2013-2014
Sam & Cat
Cat Valentine
Co-lead Role
2015
Scream Queens
Sonya Herfmann (Chanel #2)
Recurring Role
RuPaul's Drag Race
Herself
Guest judge
2016
Saturday Night Light
Herself
Guest star
The Voice
Herself
Duet with Christina Aguilera
Hairspray Live!
Penny Pingleton
Main Role
The Voice
Herself
Duet with Stevie Wonder
2017
One Love Manchester
Herself
Organizer and Performer
Carpool Karaoke: the Series
Herself
Guest star
2018
A Very Wicked Halloween
Herself
Performer
Ariana Grande at the BBC
Herself
Performer
Ariana Grande: Dangerous Woman Diaries
Herself
Documentary
2019
Keeping Up with the Kardashians
Herself
Guest Appearance
2020
Kidding
Piccola Grande
Guest appearance
The Disney Family Singalong
Herself
Performer
Stage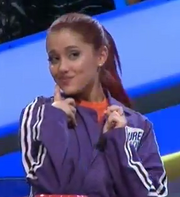 | Year | Film | Role | Notes |
| --- | --- | --- | --- |
| 2008 | 13 | Charlotte | Original Broadway Cast |
| 2012 | A Snow White Christmas | Snow White | Pasadena 2012 Cast |
Discography
Year
Song
Record Company
Chart Position
2011
"Give It Up" (with Elizabeth Gillies)

Sony, Nickelodeon, Columbia

#23 Billboard US Billboard Bubbling Under Hot 100
"Put Your Hearts Up"
Republic Records
#24 Pop Charts (unknown), #59 iTunes US
2013
"The Way" (feat. Mac Miller)
#9 US Billboard Hot 100, #1 iTunes US
"Baby I"
#21 US Billboard Hot 100
"Right There" (feat. Big Sean)
#84 US Billboard Hot 100
2014
"Problem" (feat. Iggy Azalea)
#2 US Billboard Hot 100
"Break Free" (feat. Zedd)
#4 US Billboard Hot 100
"Bang Bang"
#3 US Billboard Hot 100
"Love Me Harder" (feat. The Weeknd)
#7 US Billboard Hot 100
"Santa Tell Me"
#42 US Billboard Hot 100
2015
"One Last Time"
#13 US Billboard Hot 100
"Focus"
#7 US Billboard Hot 100
2016
"Dangerous Woman"
#8 US Billboard Hot 100
"Be Alright"
#43 US Billboard Hot 100
"Let Me Love You"
#99 US Billboard Hot 100
"Into You"
#13 US Billboard Hot 100
"Side to Side"
#4 US Billboard Hot 100
2017
"Everyday"
#55 US Billboard Hot 100
"Beauty and the Beast"
#87 US Billboard Hot 100
2018
"No Tears Left To Cry"
#10 US Billboard Hot 100
"God is a Woman"
#8 US Billboard Hot 100
"Breathin'"
#12 US Billboard Hot 100
"Thank u, next"
#1 US Billboard Hot 100
2019
"7 rings"
#1 US Billboard Hot 100
"break up with your girlfriend, i'm bored"
#2 US Billboard Hot 100
"Monopoly" (with Victoria Monet)
#69 US Billboard Hot 100
"Boyfriend" (with Social House)
#8 US Billboard Hot 100
"Don't Call Me Angel" (with Miley Cyrus and Lana Del Rey)
#13 US Billboard Hot 100
2020
"Stuck With U" (with Justin Bieber)
#1 US Billboard Hot 100
"Rain On Me" (with Lady Gaga)
Interscope
#1 US Billboard Hot 100
"Positions"
Interscope
Victorious Music Videos
Photo Gallery
Click here to see the photo gallery for Ariana Grande.
Video Gallery
Click here to see the video gallery for Ariana Grande.
References
External links
v • e •

d
Victorious Cast