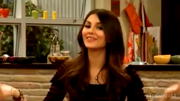 Angry Freak Out is a video on TheSlap uploaded by Tori Vega. She thought, "What would the song Freak the Freak look like if it wasn't a song, and instead it was an argument between teenagers?", and the gang (Tori, André, Jade, Beck, Cat, Robbie, and Rex) acted it out, reciting the lyrics in an argument form, while music is played. Rex ruined the video after saying words that are not related to the song. Trina Vega is not in the video.
While it does not have a category at the moment, it is assumed that it may be categorized into the Tori Takes Requests segment as Tori introduced it, saying that several people commented that she needed to upload more videos.
"Sing the next line!"
This article is a stub. You can help the Victorious Wiki by expanding it.
Community content is available under
CC-BY-SA
unless otherwise noted.